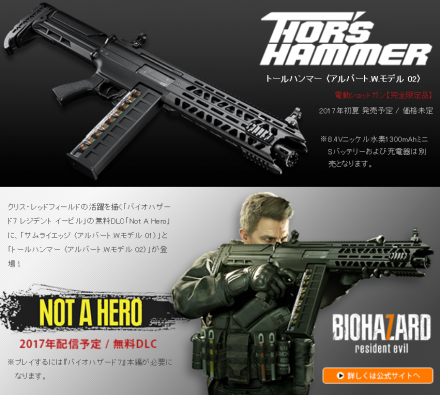 Tokyo Mauri has been offering Biohazard/Resident Evil-licensed airsoft guns for quite some time now, and they'll be expanding those offerings with the release of the Albert 02 replica from the upcoming 'Resident Evil 7: Biohazard' DLC, 'Not A Hero'. The Albert 02 is a combat shotgun that will be wielded by series regular Chris Redfield (or is he?). It looks like the 3-way love child of a SCAR, USAS-12, and the forend of a Warsport LVOA.
The Albert 02 is itself derived from Tokyo Mauri's 'Thor's Hammer', which is an original airsoft gun created in-house by their design team, and not directly modeled after any real world firearms.
Look forward to seeing the Albert 02 airsoft replica when it releases this Summer, and the 'Not A Hero' DLC when it releases.