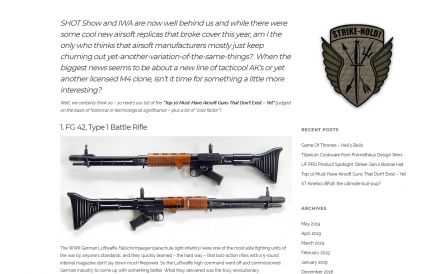 One advantage of airsoft over 'real steel' firearms, is you can own airsoft replicas of guns that would normally be out of reach of civilian hands. Having a gas-powered, training-grade airsoft clone of a select-fire, cool guy gun, like, say, an MP7, sure beats not being able to have one at all. However, even with the myriad awesome airsoft replicas out there (Stoner 99 LMG, anyone?), some guns – whether they be classic, early 20th century weapons, rare pre-production models that never got far past the prototype stage, or modern firearms still in development – are just begging for an airsoft replica, but inexplicably don't have one available. Strike-Hold! has compiled a list of 10 of these guns that are just begging for an Airsoft replica.
It's a good read, so check it out at the link below:
strikehold.net/2019/05/15/top-10-must-have-airsoft-guns-that-dont-exist-yet
Seriously, why hasn't anyone come out with an airsoft G11 yet?