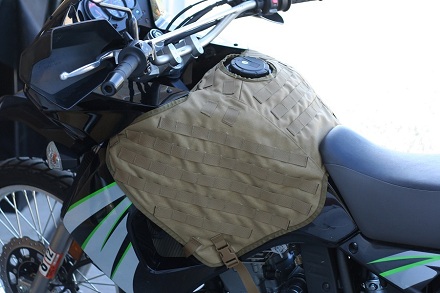 The Tank Vest is a modular, PALS webbing based storage system that allows users to attach MOLLE and ALLICE gear to their motorcycle to improve storage capacity. Tank Vests are made from 1000 denier Cordura nylon and uses a system of military grade straps and synthetic buckles to attach to the tank frame. This separates the Tank Vest from other storage options that use magnets or require drilling into the bike's frame. A feature also unique to the Tank Vest is it fits around the gas cap, negating the need to remove the vest during refueling. Currently, Tank Vests are being made for Kawasaki KLR650, KTM950/990 Adventure motorcycles, some models of Harley Davidson, the XR650R, and the Boulevard 800, with a vest for the Vstrom 1000 coming out mid-September; more models are being made based on customer demand.
The Tank Vest is available in the following colors: Black, Coyote Brown, Woodland MARPAT, ACU, MultiCam, OD Green, and Safety Orange.
Thanks to Mike K. for the tip!