Drive Angry: Cleared Hot to Watch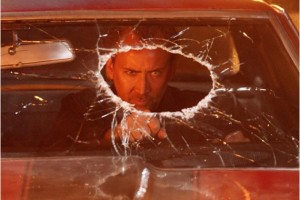 Drive Angry is the 3D theatrical version of that old truism about mopeds and, uh, large women. You know the one we're talking about. This flick is so utterly ridonculous, so over the top, it makes self-respecting grindhouse hang its head in shame—and that's what's so awesome about it. We know, you expected us to make fun of it, mock the script and gunhandling…and we would have, if the movie had taken itself seriously, but it doesn't. Its nonplussed self-awareness conveys the sort of "I'm at peace with myself" vibe that hippy gurus, overpaid therapists and cannibalistic serial killers can only envy. You know from the first thirty seconds you're in for an over the top ride and within ten minutes you'll have either left the theater or you'll be having the time of you're life.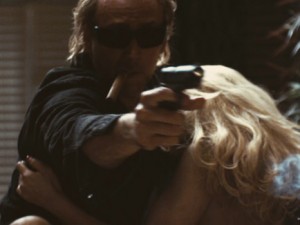 Frankly, we loved it, and if you enjoyed The Expendables, or movies like They Live or Big Trouble in Little China, you will too. However, if you want writing without clichés or realistic combat action, better skip it. Production values aren't as good as The Expendables, but the cast is, and it's way better than Machete…but the fact that we're comparing it to both should tell you something. Pay attention boys and girls, we're talking about a movie in which the protagonist engages in a gunfight while in flagrante delicto* with a white trash redneck waitress (who has predictably big store bought boobs), smoking a cigar and drinking Black Label at the same time. The fact that she never dismounts and he neither misses nor spills the whiskey despite an obscenely high bad guy death toll should tell you something about it.
* Attention, grunts reading this: this is a fancy way for us to say he was having sex with her. Note also that he was the one smoking the cigar and drinking, not her.
Nicolas Cage plays our protagonist, John Milton (yes, like Paradise Lost), the bad ass grandfather everyone thought was dead (because he was). He breaks out of hell (in black Oaklies, behind the wheel of a 1964 Riviera) by driving across a sort of post-apocalyptic version of hell obviously dreamed up collaboratively by Dante, John Carpenter, Nick Castle and the editor of Muscle Car Magazine. Hell behind and vengeance before him, Milton goes after the villain of the piece, rescues a waitress from her abusive boyfriend and persuades her to take him across country, drives several awesome cars and tries to avoid a pursing demon, all the while indulging in epic amounts of carnage and bloodshed.
Billy Burke does a good if not compelling job as the evil hillbilly satanic cult messiah Jonah King, whose congregation apparently consists solely of Jerry Springer Show castoffs and refugees from Appalachia. He wants to sacrifice Milton's grandchild (who killed Milton's estranged daughter after she performed an ad hoc penectomy on him) in a satanic rite and unleash hell on earth.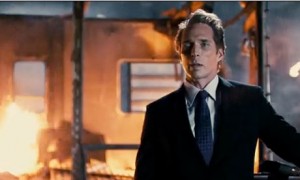 Amber Heard is easy on the eyes as the daisy-duke-shorts-wearing Piper, a brawling trailer trash princess, and she does carry her role off okay, but the best supporting actor is without a doubt William Fichtner. He just steals every scene he's in. Fichtner is the dry, impeccably dressed, laconic Accountant, sent by Lucifer to bring Milton back. Whether effortlessly beating the trailer park bully to death or driving a gas truck through a highway patrol roadblock, he makes it all look easy. David Morse plays Milton's old friend, and we give the movie additional kewl points for having him in it despite his limited role.
There are a few things in the movie we'd have wished were made clear, like the "godkiller" gun and how Milton wound up dead in hell in the first place. However, in our views such gaps aren't sufficient to spoil the fun. Besides, they're more than counterbalanced by such niceties as a 1964 Buick Riviera, a 1969 Dodge Charger, a 1971 Chevy Chevelle, boobies, a cane made from the femur of the villain's previous victim, the assorted grisly fates suffered by oh so many cultists, laugh out loud one-liners, mounds of expended brass, unabashed bloodshed, more boobies, expended shells and more brass and indignantly bloodthirsty cops…Plus, big damn supernatural bullets with Deus Velox Nex on the side are just kewl.
Though the film starts out in Colorado and makes its way to Louisiana via Olahoma, the terrain throughout will be woefully familiar to any poor bastard ever been stationed at Ft. Polk. Note: the Colorado troopers may not have been too bright (the Accountant's influence not withstanding), but the Oklahoma troopers actually seem kind of familiar. We particularly enjoyed the OHP Captain ordering them to "shoot at their tires". Pretty sure he was teaching at a tracking course we attended at Camp Gruber back in the early 90s.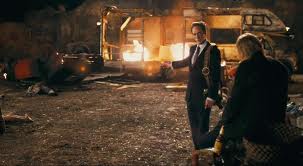 Anyhoo, we're just not sure how better to describe this movie in comparison to other movies. Constantine meets Crank? Big Trouble in Little China meets the bastard love child of Desperado and Dusk Til Dawn? Maybe it's a whole new over the top genre itself, but if you don't expect anything serious or coherent then you should be able to sit back and enjoy it.
Much as you would a really big-boned sportin' woman or a moped with flames painted on the side. Just don't wanna to tell anyone about it. You are hereby cleared hot to watch.
Mad Duo Clear!
About the authors: The Mad Duo enjoys celebrity status in the action figure world and among those sheepdogs perspicacious enough to follow them. Iconic trigger-pulling pundits whose wit and witticisms have been described as the "literary equivalent of a .308 boat-tail to the head", they offer commentary on everything from current events to the relative merits of tactical gear, TTPs and weaponry. Read them on SSD, their website Breach-Bang-Clear or on FaceBook. No sissies, pansies, Olbermann fans or Behar acolytes allowed.