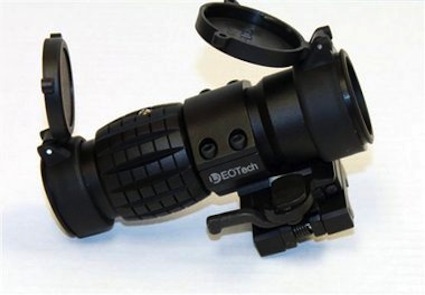 In a particularly despicable act, the CEO of Anaheim-based Field Sport Inc., a Mr. Yongming "Steven" Sui, along with two business associates are accused of the manufacture and advertising of approximately 700 counterfeit gun sights and 200 magnifier systems for sale online. According to ICE (U.S. Immigration and Customs Enforcement), the retail value of the knock-offs is around $475,000. While Sui is believed to have fled to China, his two associates Isaac Cheuk Hang Tse and Pao Sheng Yang have been apprehended. All three face two felony counts of manufacturing and selling a counterfeit mark and possession of an assault weapon. The later two are slated to be arraigned April 22. Sui himself faces a maximum sentence of three years and eight months in prison if convicted, a penalty I assume carries over to the already apprehended suspects.
The thing I find so funny about this is they were ballsy enough to try this while located in the States, where they'd be sure to get caught. If they were smarter they would have stayed in China, where counterfeits like this are all too common. Probably would have been cheaper too.
Original Story: AP via Newsvine.
Tags: Accessories