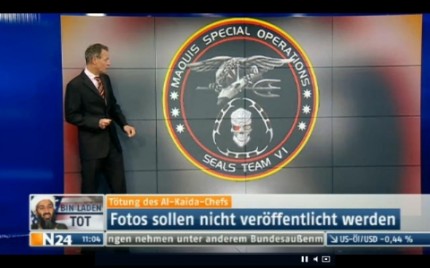 German news channel N24 confused the actual emblem of SEAL Team Six with an emblem made by a member of Maquis Forces International, a Star Trek fan organization based on the Maquis, itself an organization featured in The Next Generation*, Deep Space Nine*, and Voyager*. Based simply on how cool it looks, I could see why N24 would settle with the (unintentional) imposter emblem. However, the inclusion of a phaser, a Klingon skull, bat'leth swords, 'SEALS' instead of 'SEAL', and the word Maquis should have been enough evidence to point towards some kind of error. After all, SEAL Team Six did use the HK416 in the Bin Laden takedown, so proper recognition from a German news channel isn't uncalled for. It's still funny, though.
*These are all Star Trek series that nobody cares about.
You can see more on the story here.
Major tip of the hat to David Liu for bringing this to my attention.