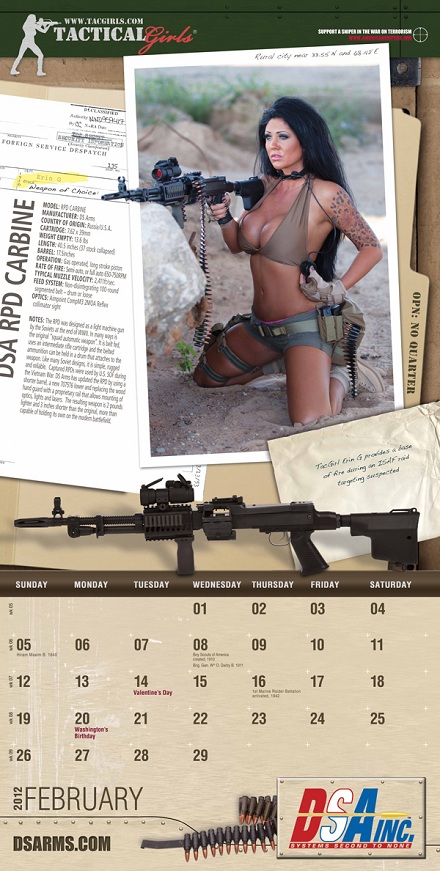 Tac Girl of the Week Erin graces the month of February in the Tac Girls calendar. She was born and raised in Northeastern, OK. She grew up on the lake was a bit of a tomboy, but always liked to dress like a girl. She has a younger sister and an older brother, and Marines will be happy to know she's obsessed with English bulldogs- she has one now, but has had 3. . .just go with it, it's a long story. Note: for the next 7 days, enter coupon code TGC-JF-12 for 2.99 off your Tac Girl Calendar.
Bust: 34E
Waist: 26
Hips: 35
Height: 5'7"
Approximate age? 24
Home town? Tulsa, Ok
Currently live? Tulsa, OK
Your personal soundtrack…pick three songs, one to fight to, one to dance to, one to relax to:
1. One to fight to: "I don't care" by Adam Gontier
2. One to dance to: "Hell on Heels" by Pistol Annies

3. One to relax to: "Love your love the most" by Eric Church
Favorite Rifle Accessory: Eotech Optic
9mm, .45 or Other: Other, .45 Long Colt
Cans or going loud? Going Loud!
Tactics: dynamic entry or deliberate search? Dynamic Entry
Preferred Work-out or PT regimen? Cardio, core and legs
Rough it in the field or Creature Comforts and Snivel Kit? Rough it in the field
Boy shorts, Thong, Cheeky or Go Commando? Go Commando
Long-Term Professional Goal? Teach Cosmetology

Hunting, fishing, hiking, camping or hell no I'm staying indoors? Fishing, hiking, camping

Favorite sport/team? College Football, OU Sooners
Favorite military or action movie? Jarhead
Military or Police in your family? Older brother is in the Army, and Grandpa
What do you think is the best pogie bait? Ruffles chips- hot wing flavored

Favorite camouflage? Good ole-fashioned woodland Camo

Justice League, Avengers, X-Men, other or hell no I'm not a dork? Not into superheroes, but I don't think they are dorky.
Website or Facebook URL? Tacgirls facebook site for now, personal page to come! http://www.facebook.com/pages/Tactical-Girls/268055608904?ref=ts
One of the guys from Frontline or History Channel with a cool voice is talking about you in a bio. What does he say?
Erin Gates loves the outdoors and likes to fish, but she's a catch and release girl. She baits her own hook and releases her own fish, thank you. She is a Cosmetologist and is also in school to teach Cosmetology, finishing in the next year.
She has a son he is one of the reasons she spend so much time outside- she tries keep him busy and away from video games.
As you noticed in her photo, she has several tattoos. Five total, including the arm tattoo in her photo. She has set of angel wings on her back- the tattoos mark major points in her life.