July's Tac Girl represents the month named after the death and deification of Gaius Julius Caesar. She's not only going loud in July, she rocks the cover.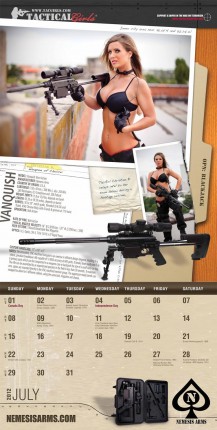 INTREP, CHRISTINA B, JULY TAC-GIRL (1 EA)
Bust: 37
Waist: 27
Hips: 38
Height: 5'9"
Approximate age? 31
Home town? Tulsa, OK
Currently live? Broken Arrow, OK
Your personal soundtrack…pick three songs, one to fight to, one to dance to, one to relax to:
1. One to fight to: Down with the Sickness by Disturbed gets me pretty hyped up, but I'm more of a lover than a fighter.
One to dance to: Anything with a good beat makes me wanna get up and dance, but Motivation by Kelly Rowland is coming to mind right about now!
One to relax to: I have spa music going through my head at the moment but Skin by Rihanna is definitely another relaxing tune!
Favorite Rifle Accessory: A suppressor
9mm, .45 or Other: 9mm
Cans or going loud? Cans
Tactics: dynamic entry or deliberate search? Dynamic entry sounds like a lot more fun!
Preferred Work-out or PT regimen? I live by my Ab Circle Pro, Crunches, Lunges & Squats!
Rough it in the field or Creature Comforts and Snivel Kit? Rough it!
Boy shorts, Thong, Cheeky or Go Commando? Depends on the outfit I'm wearing, but I think Cheeky is sexiest!
Long-Term Professional Goal? I'm a bartender. I still have no idea what I wanna do when I grow up! (That's if I do decide to ever grow up and go professional, ha ha!)
Hunting, fishing, hiking, camping or hell no I'm staying indoors? I've done them all and loved it, but camping is my favorite.
Favorite sport/team? Boomer Sooner Baby!
Favorite military or action movie? Full Metal Jacket!
Military or Police in your family? I've got them both, mostly military. My brother-in-law is in Afghanistan right now!
What do you think is the best pogie bait? Snickers!
Favorite camouflage? Girly pink camo of course!
Justice League, Avengers, X-Men, other or hell no I'm not a dork? I don't like any of those, I like Twilight! LOL!
Favorite First Person Shooter Game: Call of Duty!
Fixed Blade or Folder? Fixed blade
Your website or FB page? http://www.facebook.com/TtownPeach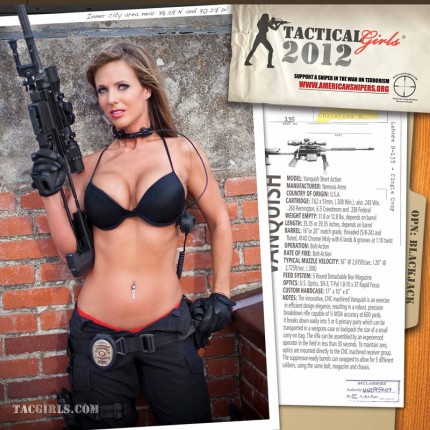 Tags: Tac Girl of the Week, Tac Girls, Tac Girls Calendar, Tactical Babes