September's Tac Girl lives with her husband at Ft. Benning, where she and he together train as long distance service providers. (He is a professional ballistic surgeon; she just enjoys it.) She comes from a big family and is a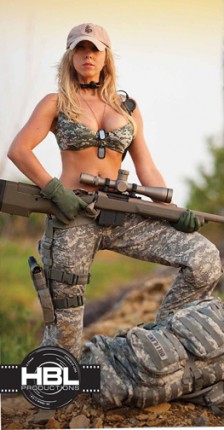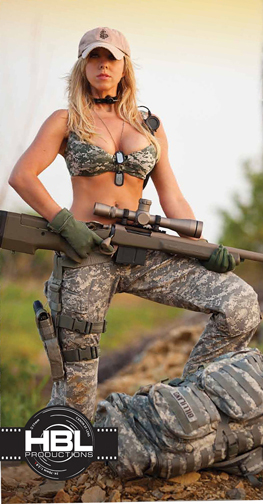 mother of four (seriously). Capt. America is her favorite superhero and she's a loyal fan of Action Figure Therapy. There's not much else that needs to be said. Please welcome Melissa to Tac Girl of the Week.
INTREP, MELISSA GILLILAND, TAC-GIRL (1 EA)
Bust:  34D
Waist: 25
Hips: 34
Height: 5'6"
Approximate age?  The woman who tells her age is either too young to have anything to lose or too old to have anything to gain!
Home town? Double Springs, AL
Currently live? Ft. Benning, GA
Your personal soundtrack…pick three songs, one to fight to, one to dance to, one to relax to:
1.      One to fight to:  Bodies Drowning Pool (Let the bodies hit the floor)
One to dance to: You shook me all night long AC/DDC
One to relax to: Sweet Home Alabama Lynard Skynard (Turn it UP!!)
Favorite Rifle Accessory:  I'm loving the new red dot sight on my AR, it's an EOTech XPS2-1.
9mm, .45 or Other: I really love my AR in 5.56, but I totally in love with the DTA .50 (I had the opportunity to shoot one at Ft. Benning.)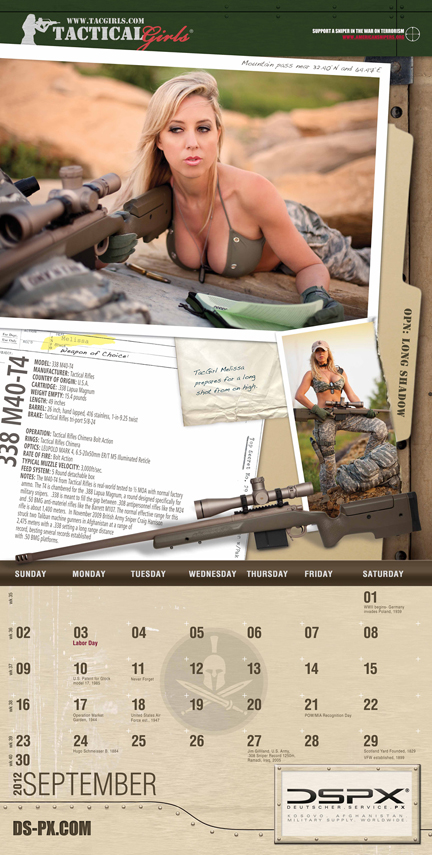 Cans or going loud? Put a brake on it and make it LOUD
Tactics: dynamic entry or deliberate search? A woman's vengeance is calculated and patient but swift………ha, deliberate search (my Sniper husband has taught me this).
Preferred Work-out or PT regimen? Pilates and cardio. I love to run.
Long-Term Professional Goal?  I have worked as Paralegal and have been a Real Estate Broker owning my own company. My long term goal is to continue taking chances/risks that come my way and to live life to the fullest, enjoying every moment of it!!
Roughing it in the field or Creature Comforts and Snivel Kit? This girl is from Alabama, of course I like to rough it but what woman doesn't love Creature Comforts!!
Hunting, fishing, hiking, camping or hell no I'm staying indoors? Anything outdoors. Would you expect anything less?
Favorite sport/team? Alabama Crimson Tide. Roll Tide Baby!!
Favorite military or action movie? RED DAWN always kept me on the edge of my seat!
Military or Police in your family? Both.  I am an Army Wife. My Husband is Army SFC Gilliland. He holds the longest confirmed kill in Iraq with a 7.62mm rifle (1250 m), and is featured on the History Channel (Sniper: Inside the Crosshairs, Sniper: Deadliest Missions and Sniper: Bulletproof) …. He is the Ballistic Surgery Specialist!!!   My sister Barbara McNabb is a SGT for the a county sheriff's department.
What do you think is the best pogie bait? Kettle Korn and Gummy bears!
Favorite camouflage? ATACS
Justice League, Avengers, X-Men, other or hell no I'm not a dork? Capt. America
Favorite First Person Shooter or other Video Game: God of War III
Fixed Blade or Folder? I am a traditional woman, I LOVE my Randall Model I Fixed blade!
Your website or FB page? https://www.facebook.com/pages/Melissa-Gilliland/141375305956676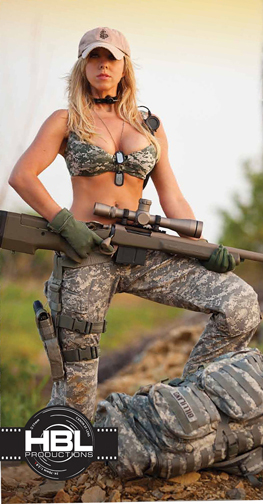 One of the guys from Frontline or History Channel with a cool voice is talking about you in a bio. What does he say?
Melissa Gilliland …… the name itself will put a smile on your face and make you wish every month was September.   Coming from a family of nine, Melissa learned at an early age how to stand out from the rest.  She spent her early life in the woods & creeks of North Alabama where she learned how to shoot and fish from her Dad. He would take her hunting where she would carry a double barrel 12 gauge shotgun!  Melissa has worked as a Paralegal and Real Estate Broker with her own company.  These days she is the outgoing, proud mother of four children and a full time go getter.  This all-around girl loves to shoot guns, travel, play golf and spend time with her family.  Melissa married her husband in February, shortly after his fourth tour overseas. Together you can find them on a gun range, eating hot wings & beer, watching Action Figure Therapy (Go Ranger!) or just relaxing at home in Georgia.   Melissa is known to be Annie Oakley on the range, Paula Dean in the kitchen and well, you get the rest of this story…………
Be sure to use coupon code  TGC-SO-12 if you buy one of the calendars (and you really should).