Tactical Fanboy staffers met Jerry Tsai today at the SHOT media range day. Mr. Tsai is the editor of the new RECOIL magazine which looks very nice. That might at first evoke some skepticism. Another firearm-related magazine? Is this another example of gun-and-knife-centric tactiporn? The short answer is no, it's not – this first issue is really nice, and we're looking forward to future issues. This won't be your standard magazine. It isn't aimed at cops or SWAT guys or grunts. It essentially celebrates what it calls the "gun lifestyle" and it does a pretty damn good job of it. This isn't directed specifically at folks who use the gear on the job every day. As the editor says, "…a magazine that encompasses modern firearm lifestyle and embodies many elements of our industry: guns, gear, technology, shooting sports, training, outdoor life and personal defense."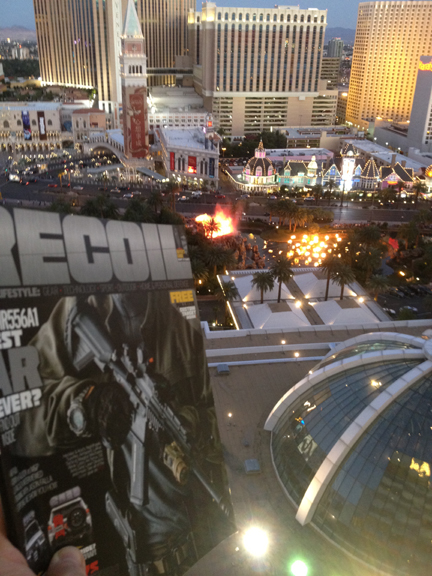 Some examples of the content:
Mesa Tactical's Benelli M4 (The Founder of One of the Most Progressive Shotgun Accessory Companies Outfits His Personal Shotgun)
Night Vision 101 (See What Goes Bump in the Night) A primer on how NODs work.
Bugout Truck (Escape the End of the World or Just the Daily Grind) Whether you're fleeing a natural disaster or an all-out zombie infestation, a properly setup truck can provide the key to survival.
Watch Buyer's Guide (Rugged Watches That Keep Much More Than Time)
Tactical Firearms Training and Redback One (What can you expect? Why should you give it a try?)
That's only a very limited look at what's in this magazine…there's a lot more. Right now the website doesn't appear to be working (it's listed as http://www.recoilweb.com). That may be temporary, we're unsure, but check on it periodically. We really think it'll be worth your time.
Tags: Recoil magazine