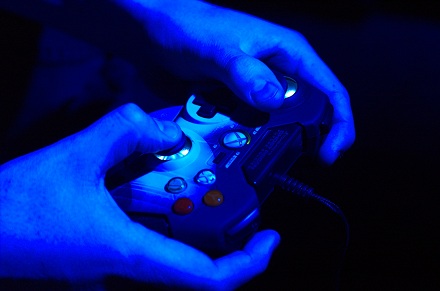 Mad Catz has created another excellent third-party controller in the 'Ghost Recon: Future Soldier' PrecisionAIM Pro Gamepad. Decked out in 'Future Soldier' imagery with backlit analogue stick modules and "non slip pistol grips", the Pro Gamepad is as great looking as it is functional. The quick fire triggers are very responsive, as is the d-pad and face buttons, while the sticks offer a degree of accuracy not found in the standard 360 pad. This can be further assisted by activating the PrecisionAIM feature, which slows down on-screen movement for more precise shots.
XL combat buttons on the rear of the pad can be programmed via selector switches (found above the buttons) to function as either face buttons (right combat button) or directions on the d-pad (left combat button). This feature was developed in conjunction with the Ghost Recon development team to best work for use with Future Soldier, although it's more than useful enough for a wide variety of games. Finally, it features a 3ft braided cable, so no batteries required.
Pricing is in the $40-50 range, so it's around the same cost as a wireless 1st party controller. Despite this, the controller is a worthy edition to any gamer's collection of peripherals, if only because it boast a number of noticeable improvements over the vanilla 360 pad. Plus, it just looks pretty damn cool.
Ghost Recon: Future Soldier drops May 22, 2012 (June 12, 2012 for PC)
Tags: Ghost Recon: Future Soldier, Peripherals, Reviews, Video Games