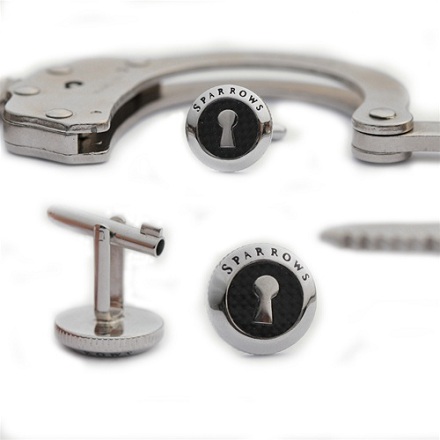 Sparrows, leading manufacturer of specialty and quality lock pick tools, has added something a bit more stylish to their product line. These carbon fiber inlaid cuff links have a covert handcuff key engineered into the design which will open almost all standard hand cuffs. Appropriately enough, they're also designed to keep your French cuffs closed. Pre-orders are currently being taken on the site, and should start shipping in December.
http://www.sparrowslockpicks.com/product_p/link.htm

Disclaimer: Tactical Fanboy does not promote any acts of potential law breaking, and puts up some products for informational, entertainment, or novelty purposes only. To quote Sparrows website: "*WARNING: The use of this product under some circumstances may result in you being shot.*"
Tags: Sparrows Lock Picks, WTF?