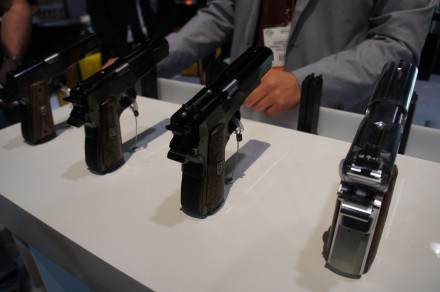 Arsenal Firearms' AF2011-A1 was on display at SHOT Show this year. For those who are unfamiliar, the AF2011-A1 is a double-barreled 1911… yeah, you read that right. Both the frame and slide are custom machined from 39NiCrMo steel, although it does use standard Colt 1911 parts for many of the internals; the sights are also interchangeable with a standard 1911. The magazine consists of two separate 8-round magazines connected by a single floor plate. The company claims the AF2011-A1 is currently the "most powerful and highest stopping power semiautomatic pistol on the world market", as a payload exceeding 4000 grains of .45 ACP (16+2 capacity) can be fired from the pistol in roughly 3 seconds. Other specifications include a total length of roughly 8 inches with a barrel length of 5 inches, a width of two inches, and a weight of roughly 4 lbs unloaded.

http://www.arsenalfirearms.com/
Tags: Arsenal Firearms, Gun Pr0n, WTF?