Double down. Bang it twice…every single time! Tactical Sh!t is taking pre-orders now for the G-Flex; the first binary trigger for your Glock pistol.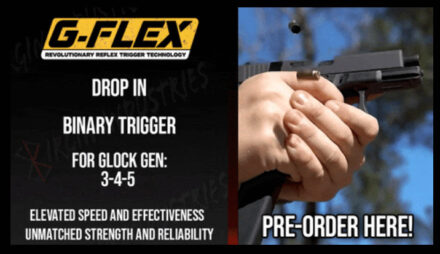 St. Peters, MO | 17 MAR 23
For the first time ever, enhanced pull and release firing capability is here for Gen 3, Gen 4, and Gen 5 Glock firearms. Introducing the G-Flex Binary Trigger for Glock pistols!
The G-Flex is engineered with Reflex Trigger Technology. It fires one round when the trigger is pulled rearward, then a second "reflex" round when the trigger is released forward. This provides the potential for lightning-fast split times and unmatched performance in your Glock handgun.
The G-Flex is manufactured from professional-grade materials and designed for easy drop-in installation. The G-Flex is manufactured with aerospace-grade stainless steel and is built to perform under pressure and hard use. You'll harness elevated speed and effectiveness with unmatched strength and reliability.
The G-Flex has been engineered with what the ATF wanted; a patented secondary DISCONNECTOR makes it physically impossible for the G-Flex to achieve automatic firing.
Components:
·         Trigger Bar
·         Enhanced Bar Guide
·         Trigger Return Spring
·         Trigger Housing
·         Trigger Shoe
Specifications:
·         Style: Reflex
·         Model: G-Flex
·         Platform: GLOCK 17, 19, 22, 23, 26, 27, 19X, 45, 47, 31, 32, and 33
·         Fit is generation specific
·         Weight: 5 ounces
·         Material: Aluminum/Steel
Experience the speed and performance of the G-Flex and its game-changing Reflex Trigger Technology. Unleash Glock's full potential with G-Flex!
Learn more about the Warlord's Glock binary trigger.
Danger Close Media Group | 4110 North Outer Road, St. Peters, MO 63376