Colorado Springs, CO, November 2013, SOLKOA Inc. — For several years SOLKOA, Inc. has been quietly producing a huge variety of specialized survival kits for the military and other high-risk organizations and government agencies.
SOLKOA has recently taken their experience and recognized expertise in those venues and is now entering the consumer market www.fast-fire.com with several offerings of civilian survival kits and equipment of which this PSK (Personal Survival Kit) is one.
The PSK provides 28 top-of-the-line U.S. military-grade quality items that can be utilized world-wide for serious real world survival. these kits are highly-recommended for hunters and outdoors people. The PSK comes packed in a clam shell design nylon case with Velcro content retaining straps and an exterior map window.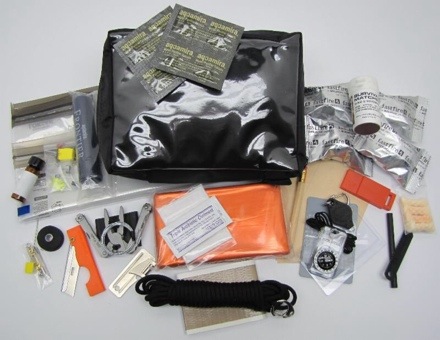 Some of the high-quality items are: Weatherproof fire tinder & matches, heat reflecting blanket, water filter straw & purification tabs, 4x magnifier, day/night signaling mirror & reflector, luminous compass, mini multi-tool, fishing kit, high-decibel whistle, specialized heavy-duty resealable water carry or water proof bag, and much more as shown in the image.
"You wouldn't buy a cheap parachute.We don't include failure-prone junk or compromise quality in our survival product offerings because they must be ready to help save a life." –Bart Combs, SOLKOA President."
Tags: SOLKOA