Getting Boxed In For Survival
How a "box" becomes a serious survival gear container and survival tool
Colorado Springs, CO, June, 2014, SOLKOA Survival Systems. — maker of highly-specialized survival kits for the government and civilian survival kits presents their SUMA* survival container. www.solkoasurvival.com
Background:
SOLKOA has applied their elite military unit survival experience and created the ultimate container for individual survival. This is NOT a plain Jane aluminum box, it is much different and that is the reason for its price, which begs the questions we will answer here shortly.
"When luck doesn't last, you need something else that does. That's why we don't compromise quality when building our survival tools and components. SOLKOA's commercial products are built to the same exacting standards as those we supply to elite special operations professionals operating worldwide. When your life is on the line you need tools you can rely on, especially under the worse conditions." –LTC Bart Combs, US Army (Ret)-President, SOLKOA, Inc."
Why the price? The light-weight SUMA survival containers and lids are CNC machined from solid blocks of ultra-tough 6061 aircraft grade aluminum resulting in thicker walls and specialized high-strength radius corners. The design and construction makes the SUMA much stronger than cheap stamped aluminum containers. This type of manufacture obviously costs more, but then again, what is your life worth?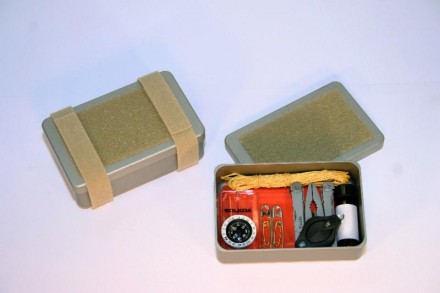 Desert tan SUMA small size survival container.
Contents not included
SUMAs are given a tough anodized finish to protect the surface and allow the multipurpose SUMA to be used as a cooking utensil and even a tough digging tool in survival conditions.
The machined lid of the SUMA has a wide neoprene closed cell gasket to seal out moisture. The SUMA container lid utilizes a large Velcro patch with two Velcro strips to keep the box securely closed, yet easily opened in the field.
Specifications:
Small SUMA Multipurpose Survival Container
Outside dimensions: 4″x 23/4″ x 15/8″
Inside dimensions 37/8″ x 23/8″ x 13/16″
Weight: 3 ounces
MSRP: $59.95
Large SUMA Multipurpose Survival Container
Outside dimensions: 51/8″ x 31/4″ x 17/8″
Inside dimensions: 43/4″ x 27/8″ x 13/8″
Weight: 5 ounces
MSRP:$69.95
SUMA containers come anodized in: Red, orange, black and desert tan.
*SUMA stands for: SOLKOA Ultralight Multipurpose Aluminum