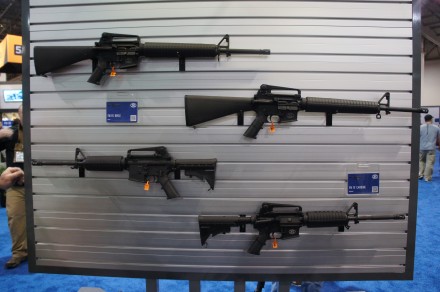 FNH has released their own AR-15 pattern rifles, the FN 15 and FN 15 Carbine. Both rifles feature a hard anodized aluminum, flat-top receiver with M-1913 MIL-STD rail at the 12 o'clock position, with A2-style front sight, and removable carrying handle mount with sights. The barrel for both rifles is button-broached and chrome-lined, with an A2-style compensator and 1:7″ twist, and a 2-piece ribbed hand guard. The AR-style magazine features an aluminum body with low fiction follower.
The FN 15 has a fixed stock with sling mount and storage compartment. The barrel length is 20″.
The FN 15 Carbine has a collapsible, 6-position stock. The barrel length is 16″.
Tags: FNH