LAS VEGAS, NV – Arsenal, Inc. is introducing a new configuration to our successful line of Bulgarian-made SAM7K 7.62×39 caliber pistols, now with Sig Sauer's SB15 pistol stabilizing brace*.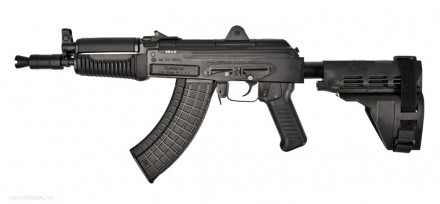 The first variation of the SAM7K pistol was introduced in 2013, and became an instant success. The SAM7K pistol is manufactured with Arsenal's exclusive forged then milled receiver, original Bulgarian hammer forged chrome lined barrel, flip-adjustable peep rear sight, and ambidextrous safety lever.
The Sig-Sauer SB15 pistol stabilizing brace used on the SAM7K-03 is a veteran-designed aid that is made to improve the single-handed shooting performance of a pistol. By using the operator's forearm, it provides a stable support to reduce felt recoil and minimize accuracy-robbing spin and shift. The stabilizing brace sits on the receiver extension, and the flexible cuff with two adjustable nylon straps allows the brace to be custom fit to any user. The receiver extension has a water proof storage compartment with a sealing threaded cap. It is accessible when the brace is removed or pushed all the way forward.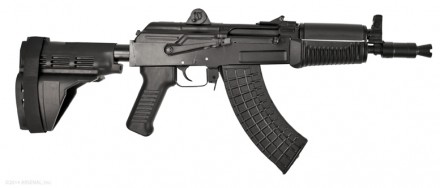 * The SB15 Pistol Stabilizing Brace is manufactured and provided by Sig Sauer. This product has been reviewed by the BATFE and was determined that it does not alter the classification of the firearm or subject the firearm to NFA control. To download the BATFE compliance letter, click here. Sig Sauer donates $3 of every SB15 sold to support the veterans of HAVA.
www.arsenalinc.com/usa/SAM7K-03-PISTOL
Tags: Arsenal