San Diego, CA – July 29, 2015 – DPx Gear, Inc. has released the new monoblock frame gentleman's knife, the DPx Aculus 3D. It is available in a limited run of 100 pieces available exclusively from DPx Gear and ready for immediate shipment.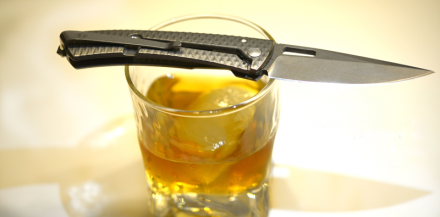 The DPx Aculus is a hard use gentleman's knife carved from a single block of 6Al4v titanium alloy. Designed by adventurer Robert Young Pelton after seeing the poor quality and limited strength of traditional military and law enforcement knives, he decided to create an incredibly strong and compact knife. The Aculus is an every day carry tool with beautifully fluid lines, exquisite ergonomics, and a tough blade of the highest quality and finish. The frame is a single seamless machined piece of art, elegantly held together with only two screws. The Aculus was designed for undercover work, where professionals must dress in formal wear but must carry tools that cannot fail. The ergonomics had to work as a knife but also as a concealed hand held tool capable of dealing non-lethal pain to attackers.
The DPx Aculus 3D features a unique 3D diamond pattern for superior grip, a tungsten carbide glass breaker with replacement flat head screw, a deep carry pocket clip, razor sharp Niolox tool steel, and DPx Gear's no-questions-asked lifetime warranty. MSRP for the DPx Aculus 3D is $400 and can be purchased only by visiting www.dpxgear.com/aculus.
Tags: DPx Gear