San Diego, CA – March, 1, 2019 – DPx Gear has released its new classic folder; the smaller, stronger, American made HEST/F Urban G10 in OD Green. The Urban reduces size and weight, compared to its larger, Italian-made bigger brother HEST/F 2.0, while increasing strength. That's not something you hear much these days.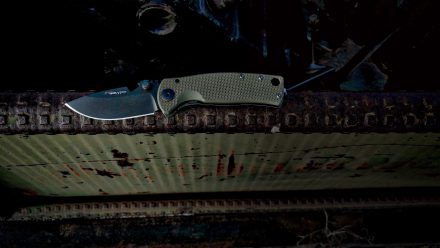 Designed by Robert Young Pelton for DPx Gear and made by Southern Grind in Atlanta, GA, the DPx HEST/F Urban is the last pocket knife you'll need for every day carry. Small, light and feature-packed, it's just as at home in your jeans as it is in the tackle box. An heirloom quality piece of US craftsmanship that can be passed down generations with the support of a no-questions-asked lifetime warranty that DPx Gear customers deserve.
Designer Robert Young Pelton is not just known for surviving wars, he is also an award winning designer, having earned recognition for his knife designs and has secured over a dozen patents licensed to DPx Gear.
When Pelton was challenged with creating a smaller EDC version of the legendary hard use DPx HEST/F 2.0, the results were impressive. The HEST 2.0 features a thicker (.19″ vs the Urban's .16″ thickness), longer (the 2.0 is 3.15" long vs the Urban's 2.9") blade but shares the same frame thickness with its smaller brother, the Urban. Weight has been reduced by an ounce and half (4.9 oz vs 3.55 oz) yet the usable blade edge is only about a quarter on an inch less.
The Urban G10 materials make familiar and liberal use of DPx hallmarks like Grade 5 Ti-6Al-4V alpha-beta titanium alloy for the lock bar frame side.
To lighten the G10 version we use the rough grip phenolic epoxy resin to make a lighter, smaller but actually tougher when thicknesses to length is tested.
In keeping with only using American-made materials, the blade steel is CPM 154. Crucible Particle Metallurgy makes steels specifically for hard use knives. CPM 154 is a powdered steel compacted into shape, creating a perfect mixture made up of extremely fine particles. This gives the final DPx steel a flawless finish with better corrosion resistance and edge retention.
The finish of a DPx Gear knife is flawless. The Urban G10 in Olive Drab features a rough finish G10 frame side and a stone washed raw Ti side. The hardware is 440 Stainless and the high sabre grind blade is our new Ghost Grey matte finish PVD.
A made in America, hard use EDC folding knife that looks good, feels greats and lasts a lifetime.
Product Specifications
MSRP: $350
SKU: DPHSF060
Blade Length: 2.9" / 73.66 mm
Blade Steel: CPM 154
Blade Thickness: 0.16" / 4.06 mm
Blade Finish: Ghost Grey matte PVD
Overall Length: 6.7" / 170.18 mm
Closed Length: 4.33" / 110 mm
Handle: Stonewashed 6Al4v Titanium and G10
Patents: www.dpxgear.com/patents
dpxgear.com/collections/folding-knives/products/dpx-hest-f-urban-g10-od-green