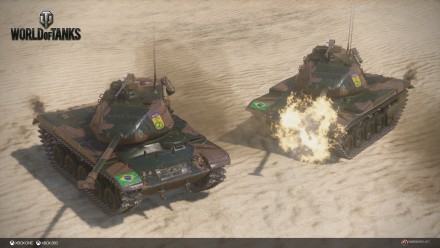 M41B Brazilian Bulldog limited release kicks off during Brazil Game Show
October 8, 2015 — Wargaming introduces the very first Brazilian-themed hero tank in the free-to-play smash hit World of Tanks on Xbox One and Xbox 360. The release of the Tier VIII M41B Brazilian Bulldog or "M41B Pracinha" aligns with Wargaming's presence at Brazil Game Show and will be offered globally beginning today through October 23.
The M41B "Pracinha" name is a reference to the members of the Brazilian Expeditionary Force (FEB) who participated in major battles during World War II such as the Battle of Monte Castello. This patriotic tank features a special Brazilian fighting force emblem, the smoking snake. This emblem pays homage to the historical FEB rallying cry. This agile and quick high-tier US light tank features a wholly custom camouflage and excels at locating and evading the enemy. Of course, Pracinha also proudly and prominently displays the Brazilian flag.
For more information about World of Tanks on console, visit:
Tags: World of Tanks