Men's grooming brand enlists Wargaming to strengthen soap arsenal and offer fans in-game goods

WAYZATA, Minn. (May 18, 2017)- Duke Cannon Supply Co., a grooming company that targets hard-working gentlemen, is collaborating with Wargaming and their free-to-play, military inspired, team-based war strategy game, World of Tanks. Wargaming and Duke Cannon have joined forces to create a limited edition Big Ass Tank Soap, a must-have for true World of Tanks fans. The Big Ass Tank Soap is the newest combatant to Duke Cannon's 'Big Ass Brick of Soap' line-up, bringing the game to life by winning the shower battle each and every day.
Duke Cannon will unveil the partnership through a limited edition run of 10,000 units of Big Ass Tank Soap, made in the classic 'Smells Like Victory' scent that Duke Cannon fans will appreciate. The war-ready soap weighs in at a hefty 10 oz., will feature iconic World of Tanks branding and offer a unique code that can be redeemed for $25.00 of in-game goods for new players. Proving Duke Cannon's Big Ass Tank Soap is nearly worth its weight in gold. The Big Ass Tank Soap will be sold for $9.00 USD and will be available on Duke Cannon's Online Store beginning May 19.
Duke Cannon's military heritage makes WoT a natural fit with both brands carrying authentic military history. World of Tanks is played by over 160MM users worldwide, including men and women of all ages, many of whom enjoy the games with their sons or daughters, making this an ideal gift for "D.W.G." or, "Dads Who Game" this Father's Day.
"We're thrilled to partner with World of Tanks, a brand that shares similar values and deep roots in military history," said Duke Cannon Co-Founder Sam Swartz. "At Duke Cannon, we like to do things big and so do our customers. With over 160MM users worldwide, it's hard to think of a bigger, better partner than World of Tanks as we take our first step into the world of gaming."
In addition to the Big Ass Tank Soap, Duke Cannon has curated a Limited-Edition World of Tanks Ammo Can giftset which includes: Big Ass Tank Soap, Heavy Duty Hand Soap, Cold Shower Cooling Field Towels and Working Man's Face Wash – all bundled up in one bad-ass authentic ammunition can. The gift set will feature a code good for $15.00 USD of in-game goods for new and existing players. Total value of the bundle is $100.00 USD, on sale for Father's Day for $49.50 USD and can be purchased through Duke Cannon's Online Store beginning May 19, with a guarantee to be delivered in time for Father's Day if ordered by June 12.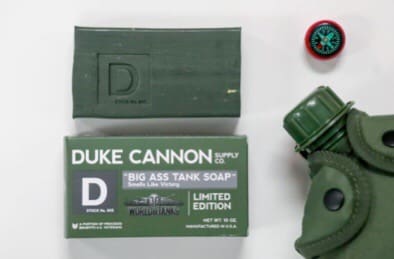 "Wargaming is proud to team with a creative and charitable company like Duke Cannon to deliver these Father's Day deals," said Scott A. Steinberg, Wargaming's head of business development. "When it comes to winning the war on stank, nothing hits harder than Big Ass Tank Soap."