AIR VENTURI ANNOUNCES ATAMAN AIRGUNS NOW AVAILABLE IN U.S.
High Quality, Extremely Accurate Russian-Built PCP Air Rifles
On Display at 2016 SHOT SHOW
Cleveland, Ohio (January 14, 2016) – Air Venturi, an exclusive airgun, airsoft and ammunition importer of leading international airgun brands, today announced that Ataman M2R air rifles are now available in the U.S. Built in Russia, the Ataman M2R series precharged pneumatic (PCP) air rifles will be distributed in North America by Air Venturi. The rifles feature five different stock configurations, and are offered in multiple calibers ranging from .177 to .35.
"Ataman air rifles are known for their high quality, exceptional reliability and cutting-edge technologies," states Air Venturi Director of Business Development, Paul Milkovich. "By combining the most up-to-date production technology, superior materials, and the legendary expertise of Russian gunsmiths, Ataman has created world-class PCP production guns that we are proud to offer throughout the U.S. Visit booth #2007 at SHOT Show for a hands-on look at these phenomenal air rifles," he added.
According to Milkovich, "The Ataman M2R series of PCP rifles are excellent options for hunting, sport shooting, and shooting for leisure." Each model in the M2R series features sidelever action, a free-floating Lothar Walther barrel, two-stage adjustable trigger, self-indexing magazine, internally shrouded barrel, and an ergonomic, ambidextrous stock. "Depending on the configuration you may choose from a beautifully crafted walnut stock or a synthetic, soft-touch black stock," he said. "The lightweight Ataman M2R air rifles are constructed to the highest performance standards, and you'll notice that in every aspect of craftsmanship."
"Whether you choose the .35 caliber version for dispatching hogs, the .22 caliber for pest control, or the .177 for target shooting or plinking, rest-assured you're getting a meticulously crafted gun worthy of handing down to the next generation," says Milkovich.

The M2R Carbine is offered in walnut only, and is available in .177, .22, .25, and .35 calibers. The ergonomic, ambidextrous stock features a checkered forearm and grip, robust buttpad, and raised cheekpiece. The ability to fill to 300 bar and regulated pressure control ensures shooting accuracy and the maximum number of shots. The pressure gauge and charging port are conveniently located in the front plug. The Picatinny mounting rail is milled directly to the receiver.

Available with a walnut or black synthetic soft-touch stock, the M2R Tactical Carbine resembles sniper-type rifles. This gun is available in .22, .25, and .35 calibers. The comfortable, pistol grip stock has a complex body shape with a grip that fits right-and left- handed shooters. The forestock is extended and the stock has an adjustable cheekpiece and buttplate that enable shooting from different firing positions.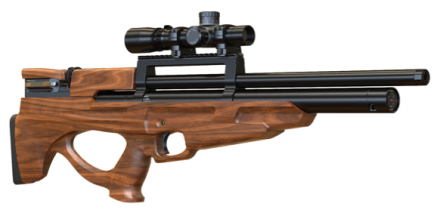 The MR2 Bullpup is offered in two types. Type 1 features the synthetic soft-touch stock while Type 2 has an attractive walnut stock. Each version is offered in .22, .25 and .35 calibers and the smaller sized stock is great for people who travel or hunt where a standard sized gun would not be ideal. The M2R Bullpup has a Picatinny mounting rail, and the barrel receiver, clamps, and trigger are integrated into the main rail.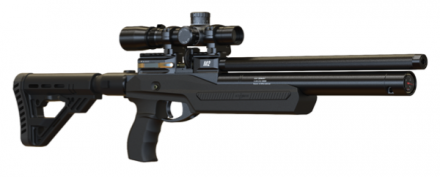 The MR2 Ultracompact Carbine features smaller dimensions and weight compared to other PCP rifles while maintaining the same on-target accuracy. The stock is adjustable for different lengths, and it folds to the side shortening the rifle length, making it convenient for carry and storage. Because of the telescopic stock, the gun can be used for shooters of any size. The pistol grip offers easy shooting for right- and left-handed shooters.
Please visit us in booth #2007 at the 2016 SHOT Show for a first-hand look at the new Air Venturi Ataman air rifles and all of the other new Air Venturi products.
Tags: Air Venturi