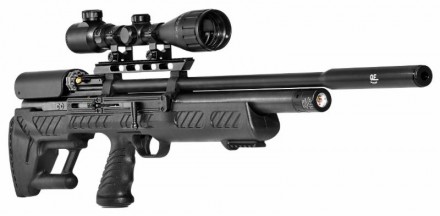 When it comes to airguns, bullpup designs have quickly become very popular. Unfortunately, most bullpups on the market can be quite expensive, but HatsanUSA's new BullBoss allows airgunners to enjoy the popular balanced design without breaking the bank.
Based on the company's recently released Gladius, this streamlined version that boosts efficiency and provides shooters with the quality and many advanced features that has made Hatsan one of the most renowned airgun manufacturers in the world, and then some.
The BullBoss will be available in .177, .22 and .25 calibers and utilizes a smooth side-lever action that provides shooters with steady and consistent follow-up shots with up to 42 foot-pounds of energy. Shooters will also benefit from the gun's easily accessible safety selector that is located inside of the trigger guard.

The BullBoss is fitted with HatsanUSA's proprietary QuietEnergy Technology, which incorporates a fully shrouded sound moderator that deminishes downrange noise by 50%. The hard hitting airgun also incorporates a precision-rifled barrel, anti-double feed, and HatsanUSA's patented anti-knock system – which insures there's no air leakage if the gun is dropped or jarred.
The BullBoss is also made to be customized to the shooter's preferences. It not only features an easily adjustable elevation comb, but a Picatinny optics rail and 6-slot Picatinny rail for accessories. The BullBoss will be even more customizable later this year, when HatsanUSA releases various colored and camouflaged stock options for the heavy-hitting airgun.
The MSRP of the BullBoss is $799.99.
HatsanUSA BullBoss
Pre-charged pneumatic power system Side-lever cocking action Average Power:
.177 Caliber – 27 ft lbs (1070 max fps)
.22 Caliber – 38 ft lbs (1070 max fps)
.25 caliber – 42 ft lbs (970 mx fps)
– Fully adjustable comb
– Detachable 255cc air cylinder for 200 bar fill (2900psi) with built in pressure gauge
– Detachable 10 shot .177 or .22 caliber magazine or 9 shot .25 caliber magazine
– Manual and automatic safety
– Anti-double pellet feed prevents more than one pellet loading into the barrel
– Patented Anti-Knock System prevents gas wastage when the airgun is knocked or bounced
– Fully adjustable 2-stage Quattro Trigger System
– Quick fill nozzle and air cylinder discharging cap
Tags: HatsanUSA