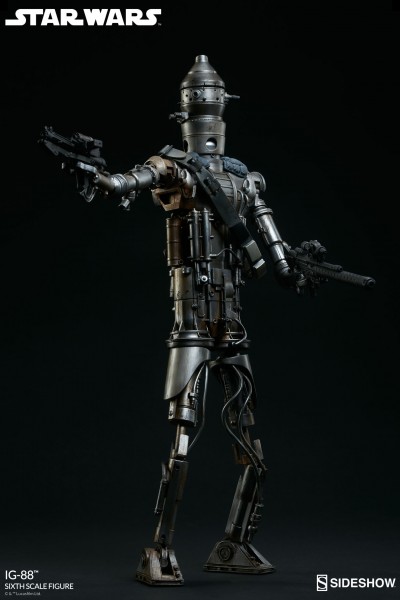 Sideshow Collectables is offering a limited edition run of highly-detailed 1/6 scale IG-88 figurines. For those who don't know, IG-88 is a feared bounty hunting droid in the Star Wars series, and was one of the bounty hunters in Empire tasked by Darth Vader to track down the Millennium Falcon.
This particular figure includes:
– New movie-accurate paint scheme
– Three (3) newly sculpted concussion grenades
– Light-up feature in the head (requires three LR-41 batteries)
– Fabric bandolier with instrument pins and magnetic attachment for grenades
– BlasTech E-11 blaster
– BlasTech DLT-20A blaster rifle
– Fully functional extendable legs
Sideshow is also offering a limited run of Bossk and 4-LOM figures as well, if you're looking to expand your bounty hunter collection.
www.sideshowtoy.com/collectibles/star-wars-ig-88-sideshow-collectibles-1000292