Solon, Ohio (August 1, 2016) – Air Venturi, an exclusive airgun, airsoft and ammunition importer of leading international airgun brands, today introduced the Air Bolt. The new, 430 grain, carbon fiber bolt may be used in any .50 caliber precharged pneumatic (PCP) air rifle with a barrel 22 inches or longer, and effectively transforms the PCP gun into a high-powered bolt slinger.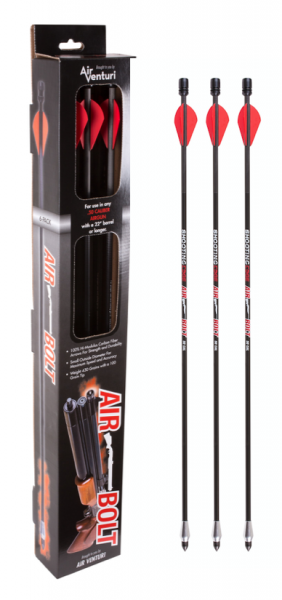 "The Air Bolt by Air Venturi converts your .50 caliber PCP air rifle into a powerful archery hunting tool intended for large game hunting," said Air Venturi Director of Business Development, Paul Milkovich. "This ground-breaking innovation represents the ideal marriage of airgunning and archery by delivering an affordable addition to your existing airgun ammunition resources. With the Air Bolt, you don't have to spend a lot of money on an entirely new archery platform. Simply take the .50 caliber PCP air rifle you already own, and add the ground-breaking Air Bolt to your existing ammunition collection. The Air Bolt comfortably fits any PCP air rifle with at least a 22-inch barrel, and accepts standard broadheads," he says.
According to Milkovich, "The Air Venturi Wing Shot and the Sam Yang Dragon Claw each launch Air Bolts at velocities up to 500 fps, and generate up to 238 foot pounds of energy. With these kinds of numbers, it's easy to see how the Air Bolt can transform your .50 caliber airgun into a multi-use hunting tool capable of taking trophy-sized big game."
"In our testing, the Air Bolt consistently achieved groups of 1 inch at 30 yards," said Milkovich. "With that kind of accuracy, it's easy to 'Robin Hood' the bolts if a shooter isn't careful – they're that accurate."
The Air Bolt is constructed of 100 percent Hi-Modulus Carbon Fiber with a small outside diameter that produces maximum speed and accuracy. With the 100 grain field tip, the Air Bolt weighs 430 grains in total.
Tags: Air Venturi