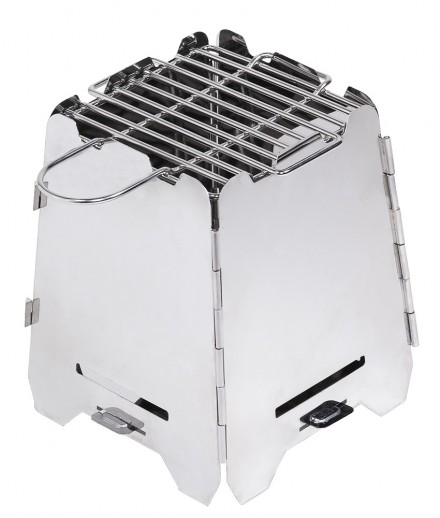 (MANSFIELD, TEXAS) – Whether you are on a weekend camping trip with family, nestled into a backcountry paradise or simply trying to survive long enough for help to arrive, the 12 Survivors Off-Grid Survival Stove makes even the worst situations a bit more appetizing. This ultra-compact, lightweight, flat-folding camp stove adds a trace amount of luxury to any situation, including backpacking, hunting or fishing, without bulking up your gear.
Small enough to fit flatly in your backpack but big enough to cook up a mighty tasty off-the-grid meal, this innovative stainless steel stove burns wood and other organic materials and features hinged panels for quick setup and takedown. The included grill grate provides the perfect surface for direct cooking or supporting containers while an ash pan keeps the ground cleaner.
Set up, this stove measures 5.75"W x 5.75"L x 6"L. When the meal is over, the camp stove conveniently folds down to just 5.75"W x .6"L x .45"H and stores in an included nylon pouch. Total weight is 13.5 oz.