Ready Aim Craft features flags, signs, wedding décor and jewelry, all made from 12 gauge shotgun shells; turns hobby into growing business
FAWN GROVE, Pa., Jan. 5, 2017 – Launched on Etsy in August 2013, Ready Aim Craft has surpassed the 1000-sale mark, while maintaining a 5-star average rating. Since it's inception, the small shop has grown from a few small items made from spent ammo, like key chains and earrings, to over 100 items including an American flag made from over 360 12-gauge shotgun shells.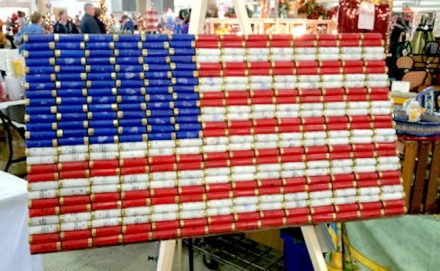 "I've been crafting as a hobby for years now, and I wanted to start creating items for others to enjoy as well," says Janelle James, founder of Ready Aim Craft. "I love being able to sort through a box of spent shotgun shells, that most people throw away, and turn them into unique pieces of art."
"Most customers are shopping Ready Aim Craft because they're searching for something special," she continues. "I've created American Flags for husbands and brothers coming home from Afghanistan, as well as Thin Blue Line flags for family members graduating from the Police Academy. I'm humbled each and every time someone chooses one of my items to give as a gift, for occasions far more celebratory than the standard birthday or holiday."
Ready Aim Craft's iconic piece of art, the Shotgun Shell American Flag, was recently added to the museum/art collection at Lock & Load Miami, a premier machine gun shooting range in downtown Miami. "[It] looks fantastic and a lot of our customers have already given us positive feedback," says Andy Serafine of Lock & Load Miami.
Future plans for the shop include participation in a variety of C&E Gun Shows through the Pennsylvania area and Catoction Colorfest later this year.
About Ready Aim Craft
Ready Aim Craft is a craft shop comprised of various items celebrating American pride and patriotism. Janelle James opened the shop in 2013, and everything is created and made by her and her husband, who serves in the Air Force.
Tags: Ready Aim Craft