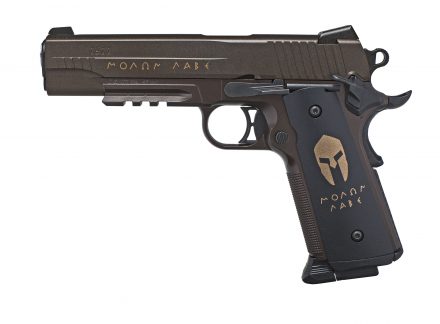 Newington, NH (January 9, 2017) – SIG SAUER, Inc. is pleased to introduce the 1911 Spartan BB Pistol. Modeled after the 1911 Spartan centerfire pistol, this CO2-powered, semi-automatic 1911-style BB pistol features a unique bronze finish. The slide is engraved with the original Greek words 'MOLON LABE' which means 'Come and Take Them', and the grip is emblazoned with the Spartan helmet. This high-performance air pistol also features a full-metal slide and frame with realistic blowback action of the metal slide and a 16-round magazine which holds 4.5mm steel BBs. The 1911 Spartan BB Pistol also fits in current 1911 holster systems and has the same weight and controls of a traditional 1911 firearm, making it ideal for training.
"Training is a must for all shooters, regardless of skill level, and this new SIG SAUER 1911 Spartan BB Pistol is an effective training tool for beginners and experts alike," said Joseph Huston, vice president and general manager of the SIG SAUER Airgun Division. "Our airguns are an inexpensive alternative to live-fire training for those who want to practice but can't make it to the range as often as they would like, and the fact that the 1911 Spartan BB Pistol fits in a regular 1911 holster allows shooters to practice drawing in addition to accuracy. Shooting enthusiasts are really embracing SIG SAUER airguns as an additional method of training, and these airguns are also an excellent way to teach beginners firearm safety and how to shoot for the very first time."
The 1911 Spartan BB Pistol has the same skeletonized trigger as its centerfire counterpart. There is also a cam lever CO2 loading port for easy and quick loading of the 12gr CO2 cartridges. The 1911 Spartan
BB Pistol shoots up to 410 fps; however, velocity results may vary depending on temperature and altitude.
Like the 1911 Max Michel BB Pistol, the 1911 Spartan BB Pistol gives newer shooters the ability to learn firearm safety and basic fundamentals in a controlled, comfortable, quiet, and safe environment. It removes the intimidation factor of the loud noise and recoil, leaving the newer shooter more confident and with a much better understanding of traditional firearms and their safe use.
MSRP: $110.99
For more information on SIG SAUER airguns, visit www.sigsauerasp.com.
Tags: SIG Sauer