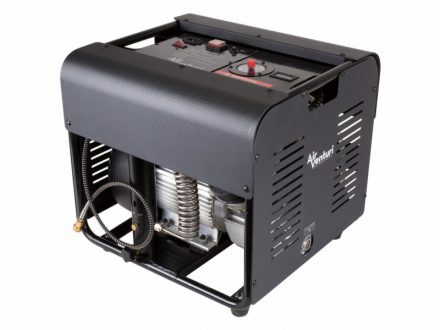 Solon, Ohio (Jan. 12, 2016) – Air Venturi, an exclusive airgun, airsoft and ammunition importer of leading international airgun brands, today introduced the Air Venturi Electric 4500 psi Air Compressor. This release marks a welcome addition to the PCP airgunners' toolkit . Currently, PCP owners have to rely on local fire departments and SCUBA shops to refill their air tanks and hand pumps to fill their guns. The new Air Venturi Air Compressor allows users to refill their air tanks in the convenience of their own home in as little as 10 minutes.
"The Air Venturi Air Compressor makes PCP airgunning much more user-friendly," said Air Venturi Marketing Manager Kristen Coss. "PCP Airguns generally represent the best airguns for power and accuracy, but until now their biggest drawback has been finding a way to fill your air tank without a drive into town. This compressor makes the middleman completely unnecessary, because you can now fill your airgun at home."
According to Paul Milkovich, Air Venturi's Director of Business Development, the Air Venturi Electric Air Compressor marks a turning point in PCP airgunning and may turn more users onto PCP airguns. "Typically compressors of this build and quality can be priced as high as $3,000. We really wanted to develop an affordable option for PCP airgunners. With an MSRP of $1,499, our compressor puts fast refills within reach," he said. "PCPs are the future of airgunning, and with the Air Venturi Compressor you cannot make refilling these guns easier or more convenient."
Air Venturi's compressor plugs into a standard 110V outlet and refills air tanks up to 4500 psi. The kit includes a hose with female quick disconnect fitting, extra seals and O-rings, male-to-male fitting and replacement filter. The compressor is perfect for Air Venturi carbon fiber and aluminum tanks currently available at AirVenturi.com.
Approximate fill times:
90 cu-in. Tank: 0 to 3000 psi in 10 minutes; 0 to 4500 psi in 15 minutes
74 cu-ft. Tank: 0 to 3000 psi in 35 minutes; 0 to 4500 psi in 52 minutes; 3000 to 4500 psi in 17 minutes
88 cu-ft. Tank: 3000 to 4500 psi in 20 minutes
Please visit us at the Air Venturi Booth #2007 at the 2017 SHOT Show for a first-hand look at the Air Venturi Electric Air Compressor as well as our selection of new air rifles, air pistols, and accessories. View AirVenturi.com for more information on the Electric Air Compressor.
Tags: Air Venturi