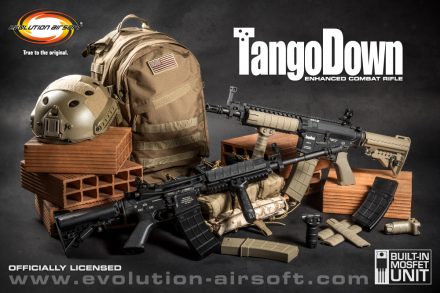 TangoDown® worldwide release
Licensed by TangoDown, U.S.A., manufactured by Evolution Airsoft
The TangoDown Enhanced Combat Rifle (ECR) is available as a Training Tool for MIL/LE and for the Milsim players.
Evolution Airsoft, a leading manufacturer in the Airsoft Industry proudly annouces the worldwide release of the brand new line of air soft guns and accessories licensed by TangoDown Inc., U.S.A.
Evolution Airsoft worked hard to deliver to the airsoft community one of the best and most realistic air soft guns ever made using only the best materials and state of the art manufacturing technology.
As anticipated at the firearms international exhibition IWA2017, the newTangoDown air soft guns are equipped with an aluminum metal body with a peculiar surface treatment to increase its resistance to scratches: the aluminum surface was first hard anodized and then finished matte black to eliminate the typical shine of anodized metal. This is something never seen before on an air soft gun.
As everybody expects from an air soft gun made by Evolution Airsoft the bolt catch and the dust cover are fully functional, the outer barrel is one piece cnc machined and anodize finished, the precision inner barrel is 6.03mmdiameter.
The highest performances are grant by a metal hop up chamber loaded withsealing o-rings.
The TangoDown guns are equipped with a new reinforced gearbox with fully removable spring guide that allows to change the spring without removing the gearbox from the body and with a built in MOSFET, which means a faster trigger response and no more carbonized trigger switch.
The TangoDown guns belong to the Evolution Airsoft's Hard Core Series, which means the best of the best and come with loads of TangoDown licensed accessories straight out of the box. All accessories are also sold as separate items and are compatible with any air soft gun on the market.
Tags: Evolution Airsoft, TangoDown