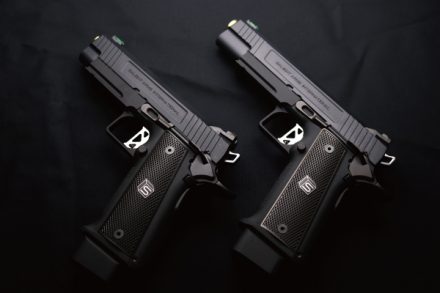 There are a plethora of 2011 style competition pistols on the market. Many of them are fine competition guns, but they lack the rugged durability and dependability of a solid, reliable duty or personal defense weapon.
Seeing this gap in the market, and already well known for making high performance, rugged weapon systems, Salient Arms International set to work producing a double stack pistol that could clean up at the competition range and defend your home or protect your life in the field. The end result of years of research was the Salient Arms DS 2011 pistol. Precision machined with a form follows function attitude the SAI DS was manufactured for no other purpose in mind then to fill the needs of the hardcore shooting enthusiast.
Equipped with aggressive front and rear slide serrations, milled lightening cuts on both side of the slide and aggressive competition style sights the SAI DS clearly is a pistol designed for shooters by shooters. As with all of their products, Salient Arms International rewrote the rules of 2011 style pistols when they manufactured the DS, forging a new trail and leaving old conventions behind, the end result is a pistol that functions in the harshest conditions, under the heaviest of stresses and provides service you can stake your life on.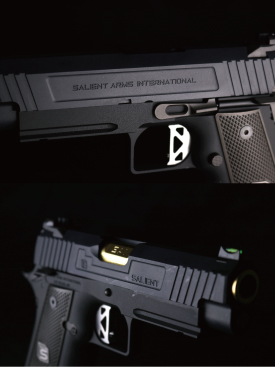 Authentic Trademarks and Engraving
The Salient Arms International™ 2011 DS Airsoft Training Weapons are licensed under Salient Arms International™ directly. The pistols are constructed under the inspection of Salient Arms International™ to ensure they look like and feel like as real as possible.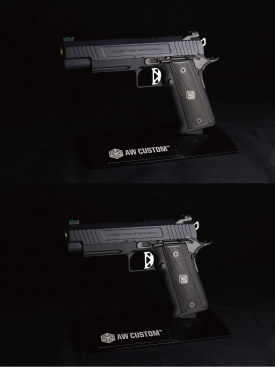 Two Different Lengths
The Salient Arms International™ 2011 DS Pistol will available in both 5.1 model and 4.3 model. The 5.1 model will feature a standard sized, full length 2011 DS Pistol with a 109.9mm inner barrel. The 4.3 model will feature a compact sized, medium length 2011 DS pistol with a 94.5mm inner barrel.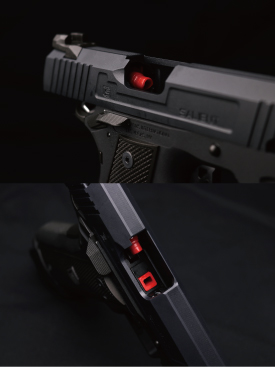 Diversified Compatibility
Using the Tokyo Marui™ Gas System, the Salient Arms International™ 2011 DS Pistol can be upgraded from a wide pool of available parts and components, ensuring easy repair and maintenance and years of reliable service.
More Detail
SPECIFICATIONS:
Box Length: 320mm
Box Width: 170mm
Box Height: 55mm
Package Gross Weight: 1585.0g (5.1) & 1555.0g (4.3)
Pistol Length: 210mm (5.1) & 205mm (4.3)
Pistol Height: 150mm (5.1) & 150mm (4.3)
Pistol Weight (No Mag): 665.0g (5.1) & 625.0g (4.3)
Magazine Weight: 335g
Inner Barrel Length: 110mm (5.1) & 94.5mm (4.3)
Material: Aluminium Alloy
Package Includes:
1 x Pistol
1 x Gas Magazine
www.armorerworks.com/airsoft/guns/pistols/ds-series
Tags: AW Custom, Salient Arms