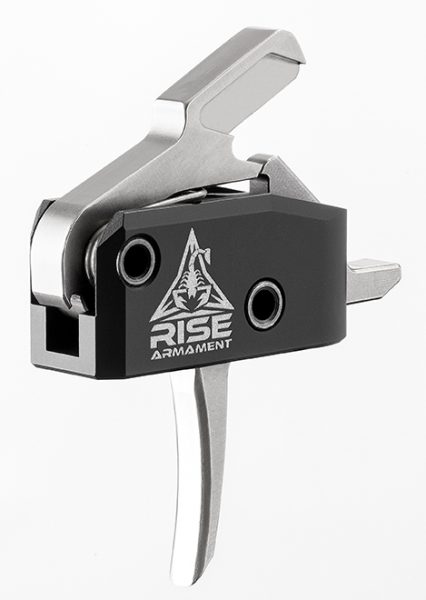 The RA-434 High-Performance Trigger uniquely combines smoothness and speed.
RA-140 SSTBROKEN ARROW, Okla. – Building on the popularity of its industry-leading AR triggers, RISE Armament is proud to introduce the RA-434 High-Performance Trigger.
The accuracy-enhancing RA-434 High-Performance Trigger (HPT) uniquely combines smoothness and speed for a tremendous upgrade in performance. The first of its kind, the RA-434 is a premium trigger available at a mid-range cost.
"Customers have been drawn to the extreme value of our triggers, so when designing the RA-434, we set out to continue to deliver quality and performance for a great price," said Matt Torres, president of RISE Armament.
Ultra smooth to the break with a crisp, clean release, the RA-434 HPT helps rifle owners shoot more accurately with less effort. It boasts a quick reset and low overtravel for enhanced speed.
The RA-434 HPT has a straight trigger blade—available in black or silver—for enhanced control and a lighter-feeling pull weight. "We've had numerous requests for a straight trigger, so we're excited to offer this option," Torres said.
The single-stage trigger has a 3.5-pound pull and a skeletonized hammer. The RA-434 HPT also has a drop safety feature, and it fits most .223/5.56 and .308 AR-style platforms.
Like all RISE products, the RA-434 HPT is manufactured and assembled in RISE's Oklahoma-based facility according to stringent AS9100 aerospace requirements, and it is backed by RISE Armament's lifetime guarantee. It is precision CNC machined from high-grade, heat-treated tool steel and aluminum. Each trigger group is contained in a black hardcoat anodized aluminum housing. Its self-contained design makes it easy to install with no fine-tuning needed.
The RA-434 HPT is immediately available and retails for $169.
About RISE Armament
Headquartered in Broken Arrow, Oklahoma, RISE Armament designs and manufactures industry-leading firearms, parts, and accessories. All RISE products are manufactured according to strict AS9100-certified procedures for enhanced quality control. For more information, visit www.risearmament.com.
Tags: RISE Armament