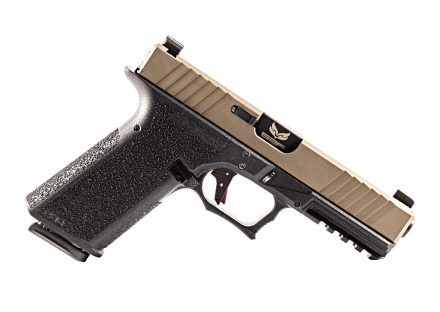 Polymer80, Inc. bolsters their product line with a long-awaited update.
Tacoma, WA – July 27th, 2017- Polymer80, the leading developer and manufacturer of 80% polymer AR and pistol products has unveiled the PF940v2™, the next generation update to their best-selling PF940v1™ Glock®-compatible 80% pistol frame.
"We have learned quite a bit since the release of the v1 frame." said Alex Brodsky, VP of Marketing at Polymer80. "The PF940C™ compact frame, for example, was designed with significantly improved ergonomics and aftermarket features. Since the compact's release, an overwhelming majority of our customers and dealers have asked that we update the original standard size frame with similar features."
The PF940v2™ is compatible with components for 3-pin: 9mm G17, 34, 17L; .40S&W G22, 35, 24; and .357Sig G31.
Some of the major changes seen in PF940v2™ include a slimmer grip that is available with an aggressive texture or blank ReadyMod™ style, a double undercut on the trigger guard, and a stainless steel rear rail module, which has been the most requested feature. The PF940v2™ comes with a Picatinny/STANAG compliant accessory rail that features an embedded blank serialization plate. Much like its predecessor, the PF940v2™ kit includes a finishing jig, drill bits, and an end mill, which allows the end-user to successfully convert the frame into a functioning firearm in the privacy of their home.
"We've been conducting PF940v2™ range tests for two months now," said Mike Guttridge, VP of Product. "The aftermarket product compatibility tests have been concluded as well, and we feel confident to start the initial production. We hope to bring the PF940v2™ frame kit to market sometime in the fall."
What is an 80% Receiver?
An 80% Receiver is a partially completed piece of material that requires special tooling and skills to be completed and considered a firearm. Unlike a firearm receiver it is not required to be transferred through a Federal Firearms Licensed holder (FFL).
Tags: Polymer80