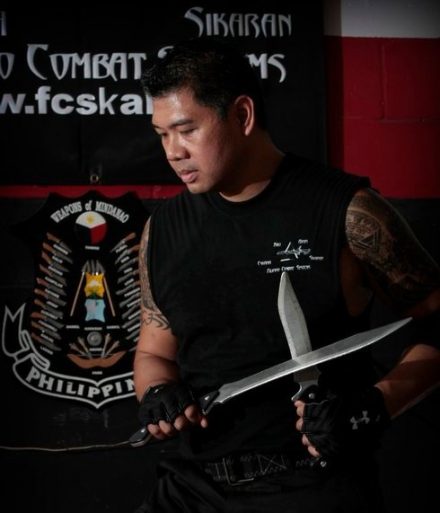 Founder of FILIPINO COMBAT SYSTEMS, Tuhon Ray Dionaldo, to work with DoubleStar to render his designs into affordable production knives.
Winchester, Ky. (August 2017) – DoubleStar Corp, manufacturers of high-quality, US-made AR components, rifles and pistols, announces a new collaboration with Filipino martial arts instructor Tuhon Ray Dionaldo. DoubleStar will work with Dionaldo to render his designs into affordable production knives for its new Edged Weapon Division. Dionaldo is the founder of the FILIPINO COMBAT SYSTEMS and is an instructor in the Filipino martial arts.
"I've always been passionate about knives and the Filipino martial arts. Working with DoubleStar and being able to share this passion with others through my knife designs is an amazing opportunity," commented Dionaldo.
Dionaldo started making Filipino-style training blades as a hobby in high school. While in college, he started to make live bolos and training knives to help cover the cost of his education. Dionaldo has over 40 years of experience training in the bladed disciplines. He currently teaches Filipino martial arts seminars, specializing in edged weapons, worldwide. He is an international blade dealer, designer and edged weapon instructor, officially endorsed by Grand Master Remy Presas.

The first knife designed by Dionaldo to be featured by DoubleStar is the MOTAC™ blade. This blade was crafted with speed and penetration in mind from the straight clip point to the shallow belly. The MOTAC features DoubleStar's Dragon Hyde DLC coating and textured G-10 scales. The MOTAC comes with a Kydex Sheath with Tek Lok. It's made in the USA, comes with a warranty and has an MSRP of $209.99.
For more information about DoubleStar, visit www.star15.com.
Tags: Doublestar