The WESN is a micro blade EDC knife currently up for funding on Kickstarter. Featuring a blade made of AUS8 steel and a grade 5 titanium grip, the WESN – which stands for West, East, South, North, lending to its design as a carry everywhere knife, is a durable daily carry knife with a small form factor deliberately sized similar to a key. What follows is a press release from the knife's creator, along with a link to the Kickstarter campaign.
Kickstarter-only prices of $35 on the WESN — a titanium knife with a length of 3.6″. Available October 25.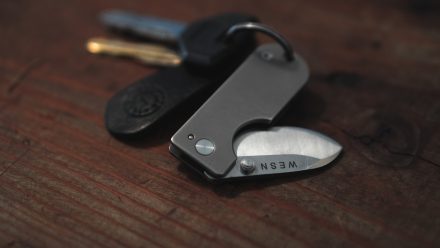 The WESN is a titanium body micro blade measuring in at a total length of 3.6 inches. It has the practicality and versatility of a full-size knife—but at a fraction of the weight, and the size of a house key.
WESN Goods has launched an exciting Kickstarter campaign that offers backers exclusive early-bird prices on the WESN Micro Blade. WESN was founded by Billy Chester, who wanted to build a knife that combined all of his favorite parts and aspects from different knives he'd owned.
"When I started making the WESN knife, I didn't have any grand ideas of starting a 'knife brand,'" Chester says. "All I wanted was a knife that I myself would want to own—something reliable, practical, and made of the best materials. Plus, I wanted something worth every penny of the cost, and not a cent too expensive."
By using top grade components, the WESN is made with some of the best materials at an affordable price: grade 5 titanium and AUS8 steel. Chester partnered with the top knife manufacturer overseas, meaning he produces the WESN out-of-country. This keeps the cost down, while still using top-grade, made-in-America components. The titanium makes the body simultaneously tough, hardy, and incredibly light. And by using AUS8 steel, the blade is durable, sharp, and made to last for years.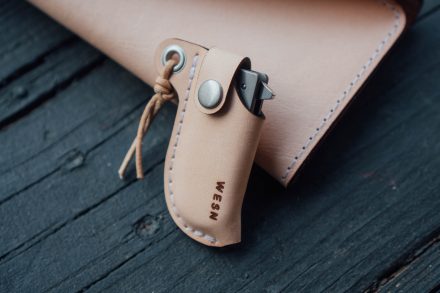 The full specs of the WESN are as follows:
Blade Length: 1.5" (38mm)
Closed Length: 1.9" (48mm)
Open Length: 3.85″ (98mm)
Handle Material: Grade 5 Titanium body
Blade Steel: AUS8 Heat Treated Steel
Hardware: Stainless steel
Frame-lock
Pocket Clip
Keychain Hole
Lifetime Warranty
Those interested in the WESN micro blade can visit WESN Goods at their website, and can purchase their own by visiting the knife's Kickstarter page and backing the project.
About WESN:
WESN Goods was started by Billy Chester as a way to pursue building practical, dependable, hard-working goods. Committed to using the best materials, WESN Goods promises to build things that carry far and carry well.
Tags: Kickstarter, WESN