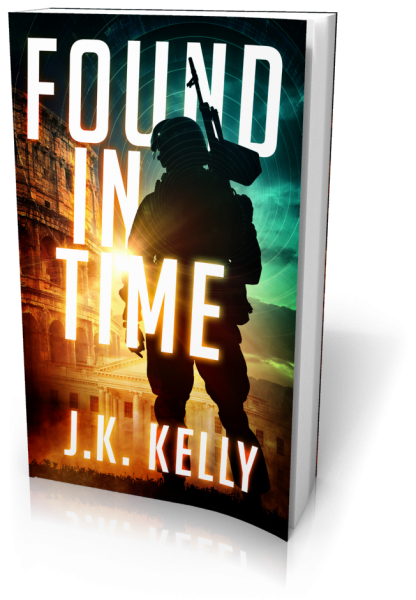 What would you do if you could go back in time and change history, for the better? Where you would you even start? That is the very issue the U.S. military is faced with in the new thriller novel by J.K. Kelly, *Found in Time* (Oct. 2017).
In today's complex world, the military can use all the help they can get fighting against the enemy. When a new top-secret weapon is revealed – the ability to travel back in time – the options for fighting against the forces of evil from any time period now comes into play.
Major J.J. Jackson, a highly decorated U.S. Marine whose focus in life is to seek and destroy terrorists, is tasked by the Joint Chiefs of Staff to test this revolutionary technology that promises the U.S. military a political edge over foreign and domestic threats. But when Jackson goes rogue and travels back in time to ask a higher power to save the woman he loves, everyone's lives are changed forever.
General Dick Stewart oversees the program they are hiding from a contentious White House and the CIA. As a supporter of Jackson's career – ever since the death of the younger man's parents – Stewart must watch his own back as he tries to look after the Jackson and his eclectic group of patriots.
For Jackson's team of six men and women, time travel becomes their magic bullet. But when a new American president comes under siege, those who were "found in time" must lock and load. The team will need to ratchet up their aggression to defeat the most dangerous enemies the country has ever seen and this time, on American soil.
"*Found in Time* not only takes readers to fascinating places all over the world during some of the most critical events history, but it also ties in the fast-paced excitement of the U.S. military fighting against the evils of the world in a way unlike every before – across centuries *and *continents," says Kelly.
ABOUT THE AUTHOR:
J.K. KELLY knows what fast-paced action is all about. Before his career as a novel author, he worked in the high-speed world of professional motorsports. While attending Penn State University he spent weekends at auto races across the country and wrote feature stories and a column for national publications like Car Craft and Super Stock. He was a Public Relations Director for Darrell Waltrip and the Gatorade 88 NASCAR Team. He went on to work with VP Racing Fuels for nearly three decades as their Regional Manager for Europe and much of North America. His job took him all around the world, which became an inspiration behind his action-packed writing that takes readers across continents and keeps them on the edge of their seats.
Kelly has since opted out of the corporate world to enjoy quality time with his family and to pursue his writing. Found In Time is his debut novel and he is currently working on the sequel. Kelly is also putting the finishing touches on an intriguing and adventurous work of non-fiction set in the fast-paced world of international motorsport.
Connect with J.K. Kelly on Twitter (@JKKellyBooks) and on his website, www.jkkelly.com.
Tags: Books