Max Michel wins 1st place in Carry Optics, Lena Miculek takes High Lady in PCC
Newington, N.H. (February 28, 2018) – SIG SAUER, Inc. congratulates Team SIG Members Max Michel and Lena Miculek on their outstanding placings at the USPSA Florida Open. Team Captain Max Michel won first place shooting his P320 RX and P320 X5 in the Carry Optics Division, while Pro Shooter Lena Miculek took the title of High Lady with a 5th place overall finish in the Pistol Caliber Carbine (PCC) Division shooting her SIG MPX Rifle.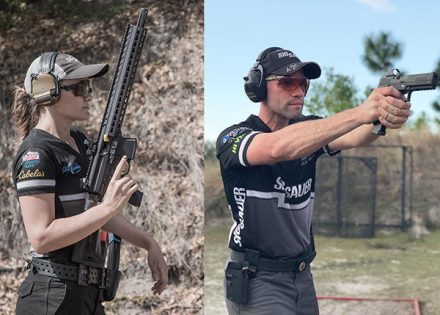 Drawing in almost 450 shooters from across the United States, Canada, Europe and South America the USPSA Florida Open Pistol Shooting Tournament was held at the Universal Shooting Academy in Frostproof, FL on February 15-18th. Competitors clashed in 11 challenging and unique stages, forcing shooters to keep up the pace and make complex decisions on the fly.
"There is a balance of speed and accuracy that must be met," Michel said. "I feel I am able to do this best in the Carry Optics division." Michel won 10 out of the 11 stages which clinched his first place victory. "I also believe the SIG P320 RX and P320 X5 I compete with give me the best chance to win."
Earning the title of High Lady, Miculek kicked off her season by dominating the competition in what she believes may be one of the most creative and challenging matches of the year. "I would definitely say this wasn't a warm up match," Miculek said of the Florida Open. "Hard cover, half targets and long shots everywhere you look."
"We are excited to have Team SIG out there representing SIG SAUER, and we look forward to seeing Max and Lena continue to push our products," exclaimed Tom Taylor, Chief Marketing Officer and Executive Vice President of Commercial Sales for SIG SAUER.
Tags: SIG Sauer