Tribe ID Platform, A New Generation of Accessories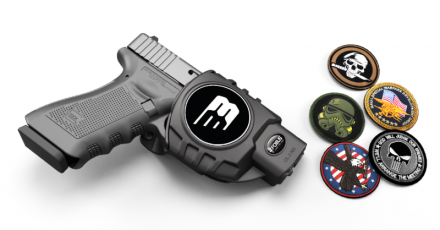 Tel Aviv, Israel – (March 8, 2018) Black Bunker™, game-changing designer and marketer of distinctive tactical accessories for shooting sports and firearms enthusiasts, today unveiled an innovative holster identification system. The Tribe ID Platform is the industry's first recognition system adapted for gun holsters that visibly communicates the identity of the person carrying.
"Leading the way for a new generation of accessories, the Tribe ID Platform can be adapted to any individual, unit, force, team, group, belief, organization, family, state, nationality, place, or tribe," says President of Black Bunker, Romain Lecosnier. "Whether you're in an urban or wilderness environment identification and communication is paramount. Customizing your holster with the Tribe ID Platform provides an added level of immediate, non-verbal contact making you even more prepared," he said.
Initially designed for integration with one of the most popular holsters in the world, the Fobus GL-2ND for Glock pistols, the Tribe ID Platform is adaptable to other holsters and brands and offers an unlimited opportunity for gun holster customization.
The Tribe ID Platform is designed and manufactured in Israel to military-grade specifications and standards and accepts a custom-made 54mm patch. The reinforced polycarbonate construction fits Fobus GL-2ND holsters for Glock 19, 17, 22, 23, 31, 32, 34, 35.
Please visit Black Bunker at the 2018 IWA Outdoor Classics in booth 8-200 to see the new Tribe ID Platform and learn more.
For additional information on Black Bunker and the new Tribe ID Platform, please email [email protected], or visit the website at WWW.BLACK-BUNKER.COM.
Tags: Black Bunker