Newington, N.H. (March 14, 2018) – SIG SAUER, Inc. expands its world-class Advanced Sport Pellet (ASP) line of airguns with the introduction of the new X-Five ASP CO2-powered pistol. Based on the popular X-Five Competition pistol, this semi-automatic .177 caliber air pistol has a single action only (SAO) trigger, ambidextrous safety and 20-round Rapid Pellet Magazine (RPM™). The X-Five also features a full-metal slide and frame with realistic blowback action and is virtually the same weight and feel as its centerfire counterpart.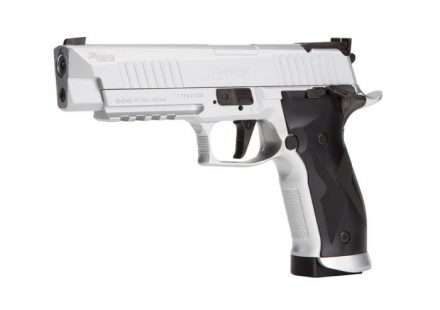 "The new SIG SAUER X-Five air pistol is an outstanding training tool as are all of our Advanced Sport Pellet airguns," said Joseph Huston, Vice President and General Manager of the SIG SAUER Airgun Division. "Airguns allow for more flexibility as to where you can shoot, such as your back yard, and more and more professionals are buying airguns for this very reason. Airguns are also perfect for teaching beginners firearms safety and the fundamentals of shooting."
The X-Five ASP air pistol has an adjustable rear sight and an accessory rail which allows easy mounting of a laser or tactical flashlight. There is also a cam lever CO2 loading port for quick loading of the 12-gram CO2 cartridges. The X-Five shoots up to 430 fps; however, velocity results may vary depending on temperature and altitude. Available in two colors: Silver/Black or solid Black.
MSRP: $139.99
For more information on SIG SAUER airguns, visit www.sigsauer.com/airguns.
Follow SIG SAUER on social media, including Facebook at facebook.com/sigsauerinc, Instagram at www.instagram.com/sigsauerinc, and YouTube at youtube.com/user/sigsauerinc.
Tags: SIG Sauer