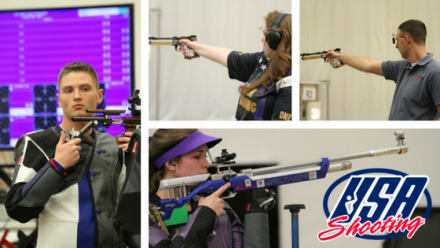 FORT BENNING, Georgia (March 29, 2018) — Twelve open airgun athletes will compete for Team USA at the 2018 International Shooting Sport Federation (ISSF) World Championships later this summer after winning an intense two-part selection match that was finalized today at the U.S. Army Marksmanship Unit (USAMU) in Fort Benning, Georgia.
Athletes began their quest during the 2017 Winter Airgun Championships and solidified their standing today at the Rifle/Pistol Spring Selection Match following a two-day match and Final. Team spots were handed out to the top-three finishers in Men's and Women's Air Rifle and Pistol. The World Championships will take place August 31-September in Changwon, South Korea.
Four Olympians earned their spots on the team including Nick Mowrer (Butte, Montana), Keith Sanderson (Colorado Springs, Colorado) and Sandra Uptagrafft (Phenix City, Alabama) in Air Pistol along with Lucas Kozeniesky (Fairfax, Virginia) in Men's Air Rifle.
Of note, all today's Finals winners across the four Open events were 18 or younger in a great showcase of USA Shooting's future promise.
The 2012 Olympian Mowrer was dominant across the two matches winning by 28 points in Men's Air Pistol. Surprisingly, this talented multi-discipline shooter makes his first World Championship after more than eight years on the international competition circuit. James Hall (Anniston, Alabama) earned the second spot in Men's Air Rifle and makes his first World Championship Team, despite shooting 22 points lower over his two qualification matches at Spring Selection than he did at Winter Airgun.
Making his third World Championship Team where he'll be competing in his fifth pistol discipline is the three-time Olympian Sanderson. The 43-year-old is the reigning World Cup Finals champion and USA Shooting's Male Athlete of the Year.
Another notable performance was 18-year-old Jack Leverett's (Bainbridge, Georgia) Spring match as he finished second overall and was just four points behind Sanderson for open team consideration. He showed he's in prime form as the 2018 National Junior Olympic Shooting Championship (NJOSC) are next month and will serve as the Junior selection match for World Championships. Challenging him there will be another 18-year-old in Kyler Swisher (Jonestown, Pennsylvania), who was today's Finals winner.
The game has changed in Women's Air Pistol with an additional 20 shots added to qualification, but that didn't seem to faze Alexis Lagan (Boulder City, Nevada) as she defeated the field by 10 points this match and 18 points overall for World Champs selection. She'll compete in her first World Championships later this summer.
"With the recent change in Women's Air Pistol, I think this match was challenging, but also new and exciting," Lagan said after the match. "We all learned a little something and will be able to work on it as we prepare for Korea. There is a lot of potential on our team, and I cannot wait to see it blossom at the World Championships."
Joining her will be the 2012 Olympian Uptagrafft while 17-year-old Sarah Choe (Los Angeles, California) continues to show maturity beyond her years in earning her selection as well. She would put the exclamation point on her proud moment with a Finals win earlier this afternoon.
Air Force Academy sophomore Logan Ogden (Galway, New York) is the top overall finisher for World Champs selection in Men's Air Rifle, narrowly defeating Dempster Christenson (Sioux Falls, South Dakota) by .3 points. Earning the third spot is 2016 Olympian Lucas Kozeniesky (Fairfax, Virginia). Ogden will compete in his first World Championship while Christenson readies for his third straight opportunity with Kozeniesky competing as a junior back in 2014.
Today's notable performance came from 16-year-old Will Shaner (Colorado Springs, Colorado), who earned the Finals win in Men's Air Rifle.
In Women's Air Rifle, Mindy Miles (Weatherford, Texas) is putting the finishing touches on a great collegiate career at Texas Christian University and made that much sweeter today with her top overall selection. She edged fellow TCU alum Sarah Beard (Danville, Indiana) by 9.7 points with Ali Weisz (Belgrade, Montana) earning the final selection spot. Miles will compete in her second World Championship after making the junior final in 2014, finishing eighth. Beard is headed to her third straight World Championship and knows what being on the podium there feels like after earning a prone silver medal in 2010 as a junior.
Reigning Olympic gold medalist Ginny Thrasher (Springfield, Virginia) finished fourth overall for World Champs selection, just .3 points behind Weisz.
Emily Stith (Jacksonville, Florida) was today's Finals winner in the event and finished third in the Spring Selection Match. This is an impressive performance after spending much of the last few months in Army basic training, forcing to miss Winter Airgun, and just getting assigned to the U.S. Army Marksmanship Unit earlier this week.
These athletes join the 24 shotgun athletes that earned their selection to the World Champs Team last weekend in Tucson, Arizona during the Shotgun Spring Selection Match. Read what shotgun athletes are Changwon bound as well in Skeet and Trap.
RESULTS: http://bit.ly/2usBG28
The Spring Selection Match continues Friday with the start of the smallbore (.22 caliber) events in both disciplines including Men's Rapid Fire Pistol, Women's Sport Pistol and Three-Position Rifle for both men and women. Another 12 athletes will earn their way onto the team with results carried over from the 2017 Rifle/Pistol Fall Selection Match. Get those results here . . .