ANOKA, Minnesota – April 3, 2018 – Federal Ammunition is pleased to announce a new addition to its full line of Syntech handgun ammunition. Look for Syntech in a variety of the most popular loads, including the new 124-grain 9mm Luger. Shipments are being delivered to dealers.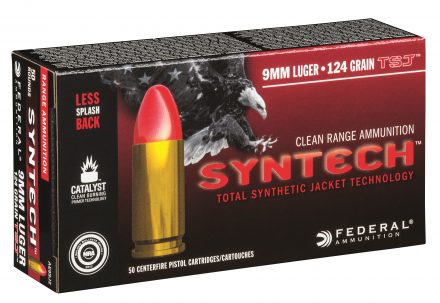 Conventional ammunition causes metal-on-metal contact between the bullet and bore, which can shorten barrel life and hurt accuracy. The polymer-encapsulated Syntech bullet prevents this, while eliminating copper and lead fouling. Combined with clean-burning powders, your gun will stay cleaner, longer, so you can shoot more—and shoot better. The exclusive Catalyst primer provides the cleanest most consistent ignition possible—that's why it received the 2017 NRA Golden Bullseye Award.
Features & Benefits
• New 124-grain 9mm Luger offering
• 2017 NRA Golden Bullseye Award winner
• Polymer-encapsulated Syntech bullet prevents metal-on-metal contact in the bore, eliminating copper and lead fouling, while extending barrel life
• Exclusive primer formulation provides reliable, consistent ignition
• Clean-burning propellants minimize residue and fouling
• Significantly reduces the required frequency of cleaning
• Absence of a copper jacket minimizes splash-back on steel targets
• Less perceived recoil
Part No. / Description / MSRP
AE9SJ2 / 9mm Luger 124 grain Syntech / $18.95
Federal Premium is a brand of Vista Outdoor Inc., an outdoor sports and recreation company. For more information on Federal Premium, go to www.federalpremium.com.
Tags: Federal Premium