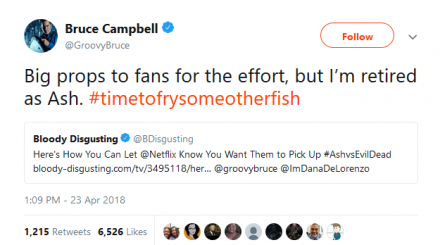 In wake of the cancellation of the excellent 'Ash vs Evil Dead' series on Starz (the first two seasons are on Netflix if you haven't seen it already), Bruce Campbell announced his retirement in portraying Ash. To what degree isn't specified, but he certainty means any live action portrayals, and potentially any voice work as well.
Noting like this is ever definite, after all, how many times has Mark Hamill said he's retired from voicing The Joker? Still, being known largely for portraying a single character for over 30 years has got to wear on a person. Besides, we got 3 seasons of a great tv show with the character before the end.
It's best to enjoy the time we had, rather than lament what will never be.