Appleton, WI, April 30, 2018— Armament Systems and Procedures (ASP) has introduced a collection of products featuring the well-known "thin blue line" design, universally recognized as a tribute to the contributions and sacrifices of law enforcement. The company's new Blue Line Collection includes a Sapphire rechargeable clip-on flashlight (MSRP $24), a pair of multi-tool, liner lock pocket knives with integral handcuff keys ($32-$45), tactical belts ($20-$21), a logo cap that fits ASP Friction-Loc Batons ($17), and two different swivel handcuff keys ($22). Each is decorated using cloisonné enameling—a deep, permanent, heirloom-quality process that results in a finish that won't fade or wear off, unlike painted or screen-printed surfaces. The flashlight and knives also have brightly-polished metal accents.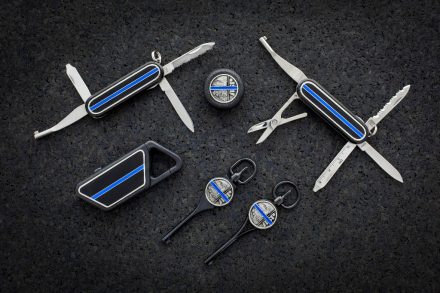 "ASP is single-minded in its focus on—and dedication to—law enforcement officers," says Daryell Harmon, the company's Vice President of Law Enforcement Sales, and a retired police officer. Harmon says that in addition to manufacturing products centered on officer safety, the company provides training programs to law enforcement around the world, at no cost to officers or agencies. "Everything we do revolves around these professionals, and these small commemorative products are just another way of showing it."
For more information, or to find a distributor or dealer, visit asp-usa.com.
Tags: ASP