Newington, N.H. (May 22, 2018) – SIG SAUER Academy is pleased to officially announce the successful completion of the Second Annual SIG SAUER Aiming for Zero Charity Match having raised over $45,000 for the Active Heroes Foundation.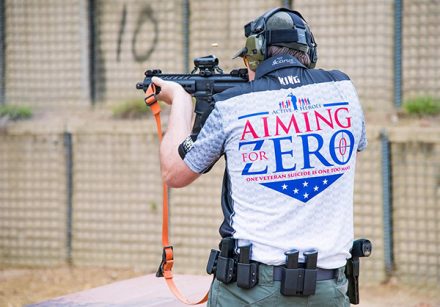 Aiming for Zero is a division of the Active Heroes Foundation whose mission is to reduce veteran suicide and assist military families. The Active Heroes Foundation provides physical, educational, and emotional programming to assist veterans and their families that are reintegrating following deployment and/or suffer from Post-Traumatic Stress Disorder (PTSD) or depression.
"We are grateful for the sacrifice our soldiers and Marines and their families make to protect our freedoms, but we are also all too aware of the difficulty these heroes can face when they return from the battlefield. At SIG SAUER we are committed to the men and women of the Armed Forces at every stage of their service and want to ensure they have the resources, and the support, they need to overcome any challenge they may face," said Tom Taylor, Chief Marketing Officer and Executive Vice President of Commercial Sales, SIG SAUER, Inc. "One Veteran suicide, is one too many, which is why this partnership between the Active Heroes Foundation and the SIG SAUER Aiming for Zero Charity Match is so important. Our sponsorship ensures that 100% of the proceeds raised from the SIG SAUER Aiming for Zero Charity Match goes directly to the Active Heroes Foundation Veterans Services programming."
Nearly 300 shooters, including Team SIG Captain, and professional shooter, Max Michel participated in the second annual SIG SAUER Aiming for Zero Charity Match held at the SIG SAUER Academy in Epping, New Hampshire, May 18th through May 20th. The match was a mix of IDPA, USPSA, and Steel Challenge disciplines with an Iron Sights division, a PCC division, and an Optics/Open division. Full match results can be viewed at practiscore.com.
To learn more about the Active Heroes Foundation visit activeheroes.org.