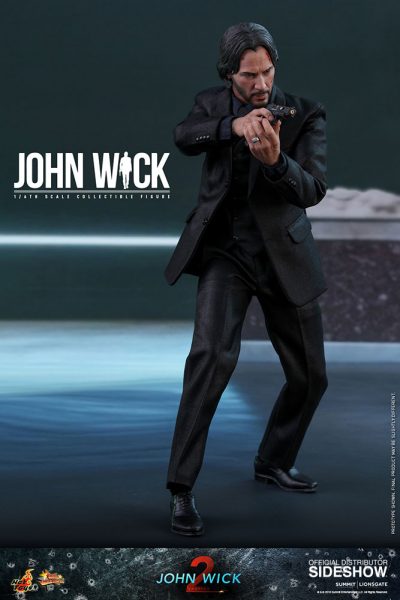 The man. The myth. The legend. John Wick, the titular main character of arguably the best pair of action movies to come out of Hollywood in recent memory (with a third on the way), is receiving the Hot Toys treatment, with a 1/6 scale figure now up for pre-order, exclusively from Sideshow Collectables. Coming in at approximately 31 cm tall, the John Wick figure features a battle damaged head sculpt with movie-accurate facial expression and detailed hair, beard and skin textures. 30 points of articulation allows for a variety of poses, such as John's CAR shooting stance.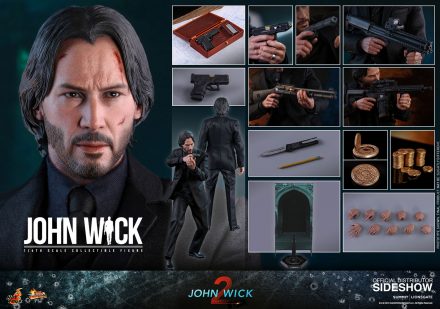 This particular figure is absolutely loaded with accessories. Although the figure is based on John's look from 'John Wick: Chapter 2', it comes with weapons and accessories from both movies:
– Compensated P30L with removable magazine
– TTI-marked Glock 34 with removable magazine
– Glock 26 with removable magazine
– Kimber Warrior given to Neo John by Morpheus The Bowery King, complete with removable magazine and case
– Kel-Tec KSG with EOTech sight
– TTI-marked Benelli M4
– TTI-marked TR-1 Ultralight AR-15, with removable sling
– Microtech Combat Troodon knife
– And, of course, a fookin' pencil
Also included are 10 pieces of interchangeable hands, two Blood Oath Markers, and gold coins, both individual and in a stack.
This figure is expected to ship between July and September of 2019, with a price of $243.
www.sideshowtoy.com/collectibles/john-wick-john-wick-hot-toys-903754
Tags: Hot Toys, John Wick, Sideshow Collectables