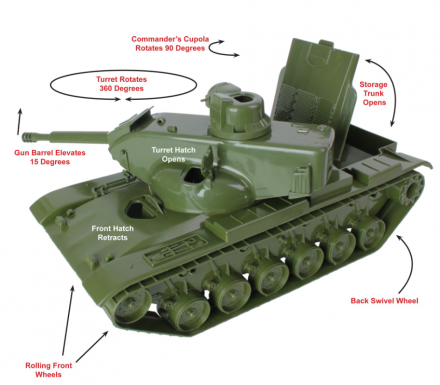 This is the Dominator M60A2 Battle Tank from US-based toy manufacturer Tim Mee Toys. Coming in sized at 18.75″ (22″ w/ barrel) x 8.25″ x 9.25″, the Dominator is deliberately sized for 3.75″ figures – like those from the 80s G.I. Joe line.
This is appropriate because the Dominator is actually a reproduction of a similarly named line of generic tanks manufactured by PROCESSED PLASTIC COMPANY (Tim Mee's parent company) in the early 90s to work with the aforementioned Joe figures, and other similarly-sized action figures.
Made of Olive Green HDPE plastic, the Dominator features a fully-rotating turret, a commander's cupola that rotates 90 degrees, a storage trunk, an elevating gun barrel, retractable hatches, and functioning wheels. This tank comes complete with a sticker sheet of reproduction patriotic stickers and shooting star graphics.
timmeeusa.com/collections/featured-items/products/jl-timmee-tank-dominator-olive