CLEVELAND, OHIO (September 27, 2019) Air Venturi, a leading manufacturer and importer of airguns and airsoft guns is pleased to announce the latest addition to its licensed Springfield Armory® replica airgun line – the 1911 Mil-Spec CO2 BB Pistol.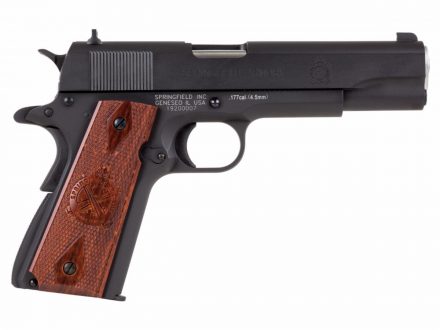 "Adding to our ultra realistic replica line of Springfield airguns, we are knocking it out of the ball park with the new Springfield 1911 Mil-Spec." says Scott Stevens, Air Venturi's National Sales Manager. "XDMs are just hitting the market now, and hot on the heels we are introducing a Springfield 1911 BB gun in time for retailers to add it to their shelves for the holiday shopping season. We chose the Mil-Spec because it does reminisce of the Springfield heritage, and is one of Springfield's more popular 1911 platforms."
The 1911 Mil-Spec features an authentic and functioning grip safety, full-metal construction and Springfield Armory® markings on the slide, grip and frame. Powered by a 12 gram CO2 cartridge, the 1911 Mil-Spec and can shoot velocities up to 320 fps with steel BBs (350 fps with Dust Devil BBs) – perfect for backyard or basement plinking. The pistol features an 18rd drop-free mag and full blowback.
This pistol is the latest in the line of popular Springfield Armory® replica releases from Air Venturi since receiving the official license in early 2018. Air Venturi also produces the iconic M1 Carbine air rifle, available as both a BB airgun and airsoft versions, as well as the XD(M) pistol replica series, available in multiple finishes and sizes.
For additional information on the full Springfield Armory® replica line from Air Venturi, contact Air Venturi Marketing Manager, Kristen Coss by phone: 216-292-2570 ext. 253 or email: [email protected].
For up-to-date news and information from Air Venturi, sign up for email updates direct on airventuri.com.
Tags: Air Venturi, Springfield Armory