NEWINGTON, N.H., (October 16, 2019) – SIG SAUER, Inc. is now shipping the semi-automatic SIG AIR ProForce M17 airsoft pistol.
Designed for professional training, this high-end SIG AIR ProForce airsoft pistol is a replica of the U.S. Army issued P320-M17 9mm pistol in look, balance, and handling characteristics and engineered to SIG standards for precision, accuracy, and reliability.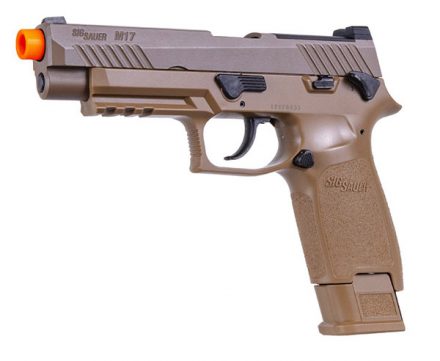 The ProForce M17 features a polymer frame and metal slide with full blow-back action. The proprietary drop magazine holds 21 rounds of 6mm polymer or biodegradable BBs. An adjustable "hop-up" feature creates spin on the BBs for additional stabilization in flight, resulting in increased distance and accuracy. A picatinny accessory rail allows for quick and easy accessory mounting, comes with an optic cut for the addition of the soon-to-be-released SIG AIR Red Dot Optic, and is available in 12g CO2 cartridge or green gas power options.
ProForce M17 Airsoft Pistol:
Total length: 8.5"
Barrel length: 5.5"
Weight: 2.6 lbs.
Finish: Coyote Tan
Muzzle Velocity using .20g Polymer BBs: Up to 410 fps (CO2), up to 320 fps (Green Gas)
Muzzle Energy: 1.5 joules (CO2), 1 joule (Green Gas)
Caliber: 6mm BB
Magazine Capacity: 21
Power Source: CO2 or Green Gas
MSRP: $179.99
The ProForce M17 is available for purchase at the sigsauer.com/store.
For more information on SIG SAUER airguns, visit sigsauer.com/airguns.