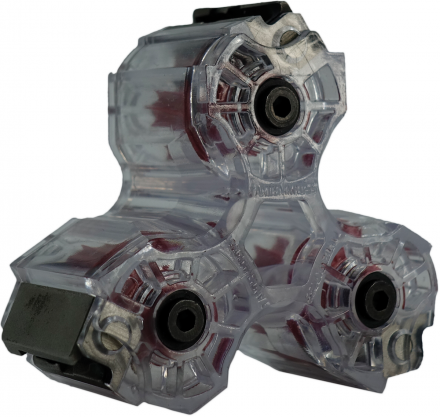 For Immediate Release October 22, 2019
WEARE, NH – TANDEMKROSS is releasing a new product that will improve the shooting experience of any Ruger® 10/22®. The TANDEMKROSS "TripleKross" clear Magazine Body is perfect for competition shooters and recreational plinkers alike.
The lightweight construction of the "TripleKross" makes it ideal for travel and use. The clear, durable plastic allows the shooter to always have a clear idea of exactly how many rounds are readily available and which compartment is empty. This feature is especially useful for competitive shooters. As every fraction of a second is crucial, visually confirming the exact number of rounds available takes all the dreadful guesswork and hesitancy out of a sport based around speed and precision.
"The TripleKross is designed to keep 10/22® enthusiasts organized and engaged in their shooting activities. From transparency for round counts, less magazines to manage, belt clips for easy transport, and lightweight design, this new magazine body has a lot value for everyone."
—Bryan Haaker, co-founder of TANDEMKROSS
The "TripleKross" Magazine Body comes with the clear magazine body and an oversized paddle capable of being attached to the shooter's belt. Each magazine body has three compartments capable of holding the internal components of a BX-1 10-round rotary magazine for the Ruger 10/22 for a total combined capacity of 30 rounds. Since the magazine body is not one continuous magazine, but rather three separate magazines merged into one body, this part meets compliance in all 50 states.
Tags: TANDEMKROSS